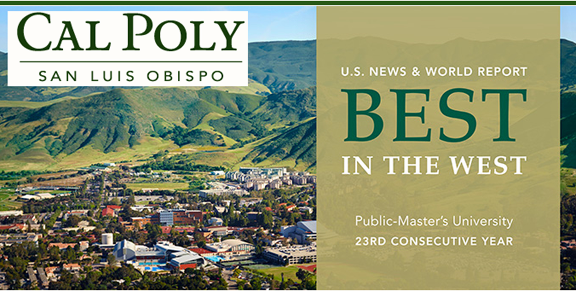 U.S. Navy Rear Adm. Brian Brown, deputy commander, Joint Functional Component Command for Space, recently visited California Polytechnic State University on April 1st to learn more about the university's CubeSat program.
During his visit, Brown spoke with members of Cal Poly's CubeSat program on various topics such as Cal Poly's activities with CubeSats—these are satellites comprised of multiples of 10-centimeter cube units, their thoughts on the industry and where it's headed, and the ongoing partnership between Cal Poly and Vandenberg.
"As space-based capabilities have become a common component of almost every aspect of our lives, it's imperative that we continually seek out and expand our partnerships with like-minded space fairing entities to maintain the peaceful and safe use of space," said Brown. "Our partnerships with industry and academia are particularly important because it helps us keep pace with cutting edge thinking and technological innovation. We are especially lucky at JFCC Space to have Cal Poly, a center of the CubeSat universe, so close by and look forward to continuing our mutually beneficial relationship."
The CubeSat program was founded 17 years ago and prepares students for future engineering roles by providing them opportunities to design, build, test, launch and track satellites. The platform has been a catalyst for the consistent running relationship between Cal Poly and Vandenberg.
Dr. Jordi Puig-Suari, the aerospace engineer professor and CubeSat team advisor at Cal Poly, stated that the university's programs provide many opportunities for Cal Poly and Vandenberg Air Force Base Personnel. The relationship between Vandenberg and the university find students who graduate going to work at the base upon graduation, while members from the base come to Cal Poly to engage in the training course.
Cal Poly is now actually initiating programs with Vandenberg AFB's schoolhouse. Many of the classes conducted there have traveled to Cal Poly and have toured Dr. Puig-Suari's lab, and the results have been highly positive.
"When we started working on CubeSats, our relationship with Vandenberg accelerated," Puig-Suari said. "We started launching from Vandenberg. We were down there with our team, working with safety and range personnel, as well as members of the Joint Space Operations Center. We became a space player and at that point, our interface with the space people from the Department of Defense became a day-to-day operation. Our relationship with Vandenberg has been and will continue to be very critical in the success of our operations. I think it's great when we have these tours and these face-to-face gatherings, they're very important and informative. We look forward to many more future endeavors with Vandenberg."
The CubeSat program has provided a foundation for Vandenberg and Cal Poly to thrive as a team, a notion cemented by Rear Admiral Brown's visit.
Story by Airman 1st Class Robert J. Volio,
30th Space Wing Public Affairs, USAF.