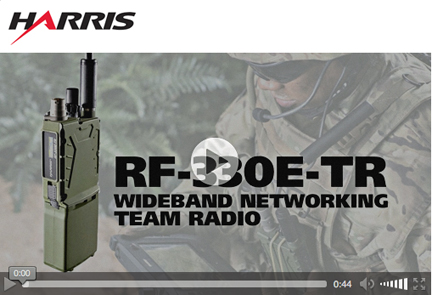 [SatNews] Harris Corporation (NYSE:HRS) has provided a U.S. Department of Defense customer with the first production units of its Falcon III® RF-330E-TR wideband team radio, the only independently developed and fully compliant solution for the U.S. Department of Defense Rifleman Radio program.
Designed with the dismounted warfighter in mind, the RF-330E-TR is smaller and lighter than existing wideband handheld radios yet provides superior battery life and transmission range. The radio quickly connects warfighters operating on the tactical edge into the tactical network for enhanced command and control and situational awareness. The RF-330E-TR offers a built-in display with an intuitive visual interface which simplifies radio configuration and programming, validates network availability, and monitors radio status. The radio has been certified by the National Security Agency for Type-1 information security, the Joint Interoperability Test Command for interoperability and the Joint Tactical Radio System Test and Evaluation Laboratory for Software Communications Architecture compliance.
"The Department of Defense has committed to full and open competition in the Handheld, Manpack and Small Form Factor (HMS) Radio programs," said George Helm, president, Department of Defense business, Harris RF Communications. "Our initial shipments of the RF-330E-TR reflect our confidence and readiness for this competition."
The infosite for Harris RF Communications is located at http://rf.harris.com/