[SatNews] SIS LIVE has announced that the company's award-winning uPod® and DriveForce® satellite uplink system has received official accreditation for use in Brazil.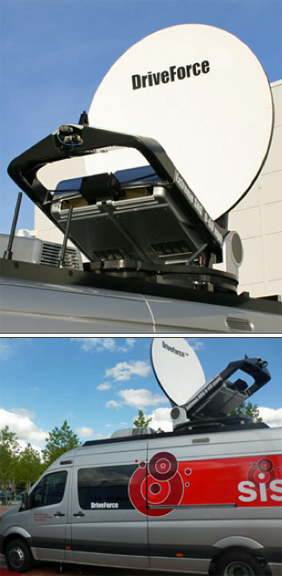 The granting of satellite approval certificates by ANATEL, the National Telecommunications Agency for Brazil which is responsible for regulating and authorizing service providers, means that DriveForce® and uPod® are now officially accredited to deliver quality uplink services in the region. This follows on from a successful performance this summer, when the range was widely used by broadcasters to transmit news coverage from the Football tournament in Brazil. As a result, SIS LIVE received significant interest in the product, leading to further multiple sales.

Leading broadcasters rely on DriveForce® and uPod® to provide a fast, reliable SNG link from even the remotest locations because of its versatility, transportability, and track record of delivering impeccable HD or SD coverage on demand. DriveForce® has a solid antenna and is designed to be vehicle mounted. The uPod® antenna is segmented, allowing it to be packed into cases and easily transported. Both are highly compact, with fully automated satellite uplink capability. The extensive use of carbon fibre in both the reflector and base construction means the system is extremely lightweight but also strong, providing thermal stability in extreme temperatures. An integrated bookings system delivers a simple and seamless satellite connectivity solution, giving newsgatherers the competitive edge.

David Meynell, managing director, SIS LIVE, said, "ANATEL's decision to approve our uPod® and DriveForce® range is the icing on the cake after its extremely successful performance this summer. Broadcasters in the region who saw the system in action can now also take advantage of its faultless satellite connectivity, with the added confidence that the range is accredited by the highest regulatory body in Brazil."

SIS LIVE's satellite hardware division forms just one part of a wider portfolio which includes a UK and international fibre network; two teleports, NOC's and iDirect hubs; over 500MHz of permanently leased satellite capacity; a satellite Internet department; and the largest mobile satellite uplink fleet in Europe.
The SIS LIVE infosite offers more information at http://www.sislive.tv