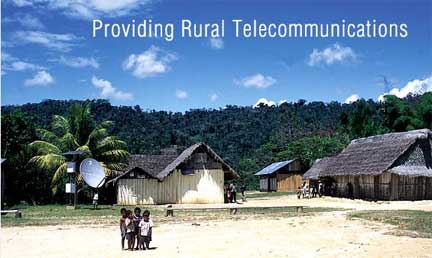 [SatNews] It is difficult to imagine what it would be like to be without Internet and phone access, and yet...   
Gilat Satellite Networks Ltd. [Nasdaq:GILT] today announced that the Colombian Ministry of Information Technology and Communications, through the Tecnologías de la Información y las Comunicaciones "Fondo de Tecnologas de la Informacion y las Communicaciones", has extended
its Social Telecommunications Program ("Compartel")
agreements for the provision of services under the Rural Communitarian Telephony (TRC I and TRC II) and Telecentros (TLC 3) projects for an additional nine-months period, through 30 September, 2012. The extended service agreements are valued at approximately $16 million.
The Compartel
service agreements are for projects that provide telephony and Internet access to remote communities throughout rural Colombia. The current extension of the agreements covers approximately 1,800 sites, benefiting over 4 million inhabitants
residing in these rural areas with
limited or no access to basic telecommunications services
.
These sites include telephony centers, small community Internet access telecenters
, known locally as CACI (Centro Acceso Comunitario a Internet) sites, and larger telecenters. The
telecenters and CACI sites are equipped with computers, printers, scanners, faxes and webcams — all provided by Gilat.
The telecenters and a majority of the CACI sites also include telephony services.
"This latest extension
represents a strong vote of confidence in Gilat, and we are honored to be able to play a key role in the Colombian Government's goal to ensure that Colombian citizens are connected and informed, especially those residing in the most remote regions of the country
," said
Danny Fridman
,
CEO Gilat Colombia and Gilat Peru.
The extension follows the recent announcement by Gilat that it was selected by the Colombian Ministry of Information Technology and Telecommunication (MINTIC) to
provide broadband Internet connectivity to over 1,600 schools throughout the country's rural regions.
The project, also hosted by Compartel, is
valued at approximately $18.5 million.