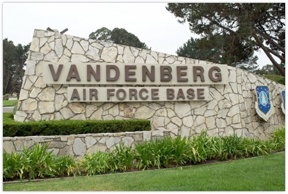 [Satnews] December 16 will mark the anniversary of the very first launch from Vandenberg, when a Thor Intermediate Range Ballistic Missile, nicknamed "Tune Up," departed Launch Facility 75-1-1, in 1958.
Demonstrating operational capability, the successful test was conducted only a year after the base was activated—and ignited a launch legacy spanning more than five decades.
"That launch represented what can be done when a group of dedicated professionals choose to find solutions to problems and overcome adversity, even when there are no standards to guide the way," said Jay Prichard, 30th Space Wing curator of Vandenberg's Space and Missile Heritage Center. "That's the difference between leadership and management. It was all new and they were literally figuring it out as they went."
For some, the anniversary of such a momentous occasion is an opportunity for current space and missile Airmen to pause and reflect on their occupational origins.
"Air Force Space Command has always had such an eye to the future, and sometimes I fear Airmen can forget that," said Shawn Riem, 30th Space Wing historian. "The Air Force got involved in the space business within ten years of its creation, and long before AFSPC was even activated."
Although technology has made great strides in the years since the first launch, much of the processes, procedures and hardware are still used today.
"There are many elements of that original launch that are still present in current operations," said Prichard. "Physics hasn't changed, but our understanding has, as well as the evolution of materials and material processes. I think we are at the beginning of a new public space renaissance that will normalize the space dialogue into our human evolution. In reality we aren't separate from the subject—we are part of it. We are ever-present on a piece of space as we spin through it, so we shouldn't be thinking of the space enterprise like it's something unachievable—or out of reach."
As space and missile operations from Vandenberg continue into the future, a firm grasp on how, and why, it all started is imperative.
"If we don't have a working understanding, not just a familiarity, but a comprehension of our past and history, we cannot understand why we are where we are today," said Riem. "It's that comprehension of the past that provides a link to our present."
With nearly 2,000 space and missile launches from Vandenberg since it all started, remembering the past in order to understand the present and preserve the future—is a priority for Vandenberg and its Space and Missile Heritage Center.
"When people talk about heritage, or museums, they often think it's just about something that 'was' but sadly they have missed the point," said Prichard. "Heritage is something that 'is' and it's yours. It is the foundation upon which every bit of our Air Force culture is built. Museums are not just collections, they are about inspiring people and that is the continuing mission at Space Launch Complex-10, just like the early days, we keep pushing forward. We just happen to use the past to do it."