[SatNews] The Ariane 5 for Arianespace's Flight VA225 will lift off from the Spaceport's ELA-3 launch zone today.
The final countdown is underway for Arianespace's fourth Ariane 5 mission of 2015, which is scheduled for between 04:10 p.m. and 05:56 p.m. ESDT from the Spaceport in French Guiana with the EUTELSAT 8 West B and Intelsat 34 satellites.
This latest dual-passenger flight for the heavy-lift Ariane 5 workhorse continues Arianespace's sustained mission pace using its full launcher family – which also includes the medium-lift Soyuz and lightweight Vega.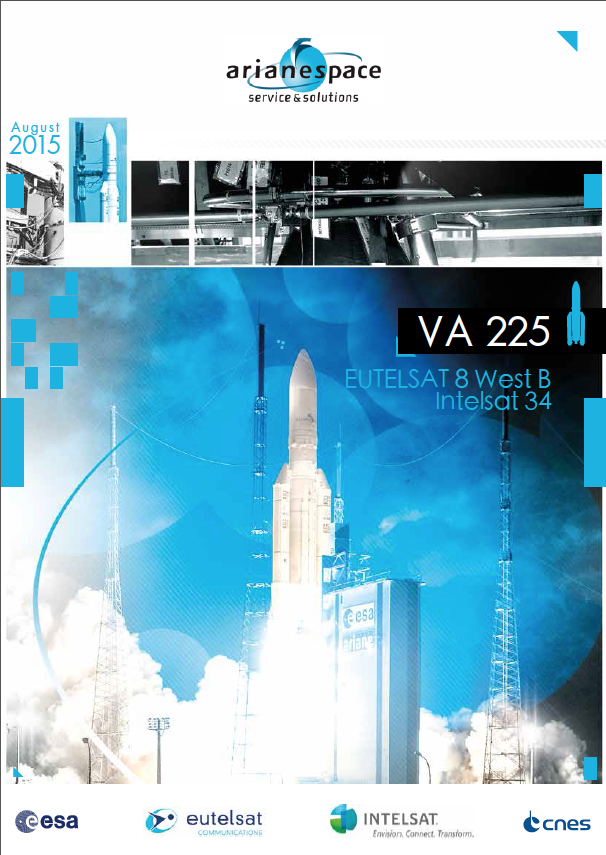 On its seventh launch of the year liftoff is planned for Thursday, August 20, 2015 and is the fourth Ariane 5 launch from the Guiana Space Center in French Guiana. Arianespace will orbit satellites for two global leaders in satellite telecommunications: EUTELSAT 8 West B for the operator EUTELSAT Communications, and Intelsat 34 for the operator Intelsat.
This latest mission by the Ariane 5 heavy launcher once again shows how its top-flight capabilities perfectly match the launch service needs of the world's leading operators and manufacturers. Building on its proven reliability and availability, Arianespace maintains its position as the global benchmark in launch services.
EUTELSAT 8 West B and Intelsat 34 will be the 513th and 514th satellites launched by Arianespace. EUTELSAT 8 West B will be the 30th satellite orbited by Arianespace for the private operator EUTELSAT.
With a fleet of 37 satellites, EUTELSAT is one of the leading space telecommunications operators. EUTELSAT is the leading operator in Europe, North Africa and the Middle East, and third worldwide in terms of revenues. It has entrusted its satellites to Arianespace for over 30 years, starting with the launch of its first satellite, Eutelsat-1-F1, in June 1983.

EUTELSAT 8 West B
Fitted with 40 active Ku-band transponders, EUTELSAT 8 West B will be positioned at 8 degrees West, and will provide in particular high-definition and ultra-high-definition direct TV broadcast services to North Africa and the Middle East. The satellite is also equipped with ten C-band transponders, allowing it to provide telecommunications services in Africa and the eastern part of South America.
Built by Thales Alenia Space (TAS) using a Spacebus 4000 C4 platform, EUTELSAT 8 West B is the 143rd satellite built by TAS (and its predecessors), to be orbited by Arianespace.
Intelsat's relationship with Arianespace began in October 1983 with the launch of Intelsat 507. Intelsat 34 marks the 55th Intelsat satellite orbited into space by Arianespace and represents over 30 years of a trusted partnership. As the world's leading provider of satellite services in terms of revenues and in-orbit capacity, Intelsat's fleet of approximately 50 satellites delivers high performance connectivity solutions for media, fixed and mobile broadband infrastructure, enterprise and government and military applications.
Intelsat 34 will provide services for Latin America media customers in C-band and host a leading Brazilian DTH platform in Ku-band. It will also provide Ku-band infrastructure for aeronautical and maritime service providers delivering mobility services over the North Atlantic routes.Intelsat 34 will replace Intelsat 805 and Galaxy 11.
Built by Space Systems Loral (SSL) using the SSL 1300 platform, Intelsat 34 is the 51st geostationary platform built by SSL (and its predecessors), to be orbited by Arianespace.