[SatNews] Comtech EF Data Corp. announced that it is previewing the new Heights™ Networking Platform at the Satellite 2015 show in Washington, D.C. Designed for the service provider, Heights is a scalable networking platform that meets the demands of a diverse end-user community. Heights leverages a single comprehensive user interface teamed with a powerful traffic analytics engine that allows simplified design, implementation, monitor, control and optimization of networks. The result is an elevated Quality of Experience (QoE) for end-users. Equipped to support demanding networks on traditional wide beams, new High Throughput Satellite (HTS) spot beams or a combination of both, users can increase market share and grow revenues while controlling costs via Heights.
The Heights Networking Platform is a robust carrier class solution that supports multiple business models simultaneously, from full hub ownership, to collocation at a third party teleport facility to Virtual Network Operator (VNO) operations. Modular in design, the platform consists of scalable hubs that support any satellite architecture at any frequency band and allows for multiple cost-effective expansion paths. Two Hubs are offered, each seamlessly enabling connectivity with existing IP infrastructure and capable of providing user IP throughputs of up to 450 Mbps per outbound.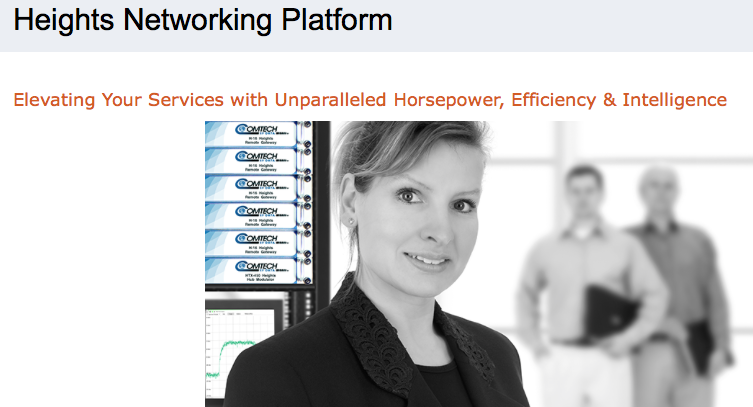 The four remote gateway options within the Heights Networking Platform meet the unique, vertical-specific needs of end-users at user IP throughputs of up to 64 Mbps. Each remote gateway in a network is assigned inbound bandwidth on-demand from a shared pool by the Heights' dynamic bandwidth allocation engine blending the flexibility of MF-TDMA with the efficiency of SCPC. In addition, each remote gateway in the network leverages its own optimal modulation and coding method and is not limited to a fixed combination that disadvantages remote gateways to allow for worst-case remote operation, as is the case with a static or adaptive TDMA method.
The Heights Network Platform leverages Comtech's horsepower, efficiency and intelligence that enables differentiation of services today while preparing networks to power the new spacecraft designs of tomorrow.
Horsepower – the Heights platform is designed to support the traffic load of demanding premium enterprise users on traditional or HTS satellites, with remote gateways capable of processing from 35,000 pps up to 140,000 pps with all features enabled. These performance levels make the Heights Remote Gateway suite a powerful IP packet processing engines in the market, providing support for simultaneous high definition video sessions working in tandem with high data rate mission-critical business applications, Internet access and voice connections.
Efficiency – to create the service economics required in today's evolving world of satellite networking, a great deal of focus needs to be placed on the overall net efficiency of the network. The Heights platform provides the economics for mission-critical premium enterprise services via multi-layer optimization, specifically, Efficiency Boost Waveform for the outbound, VersaFEC-2 Waveform for the inbounds, Adaptive Coding & Modulation in both directions, Dynamic Bandwidth Allocation, Compression and Quality of Service traffic shaping.
Intelligence – throughout the life of a network, a great deal of intelligence is required to ensure end users are delivered a maximized QoE. The Heights platform provides different layers of intelligence through network design tools, a powerful analytics engine and a deep bench of industry experts available as an extension of a service provider's operations.
"The Heights Networking Platform is the most robust carrier class networking solution in the market, and is ideally suited for the increasing demands of Oil & Gas, Cruise & Cargo and Corporate Enterprise networks ranging from tens to thousands of sites," said Steve Good, Vice President, Marketing for Comtech EF Data. "By leveraging the unparalleled mix of horsepower, efficiency and intelligence, users and service providers can realize the tremendous benefits of service differentiation, including increased market share, improved margins and overall business growth."
For more information on Heights, stop by Comtech's booth #7009 at the Satellite 2015 show in Washington, D.C.
Comtech EF Data Corp., a subsidiary of Comtech Telecommunications