Despite the distance that keeps passengers on boats at sea apart from those on land, satcom service providers are always seeking ways to keep the two parties closer and with better service.
The market transformation is ongoing and the maritime satcom changes the core dynamic of how service is provisioned. With pressures building on service providers to further evolve their cost vs. bandwidth value proposition, most end-user markets face bleak market economics where the end-user key talking point is, 'leveraging data to improve (financial) outcomes.' Facing ongoing pricing pressures, maritime service providers are exploring the acronym soup of Internet jargon to power the 'next big thing' for maritime satcom services.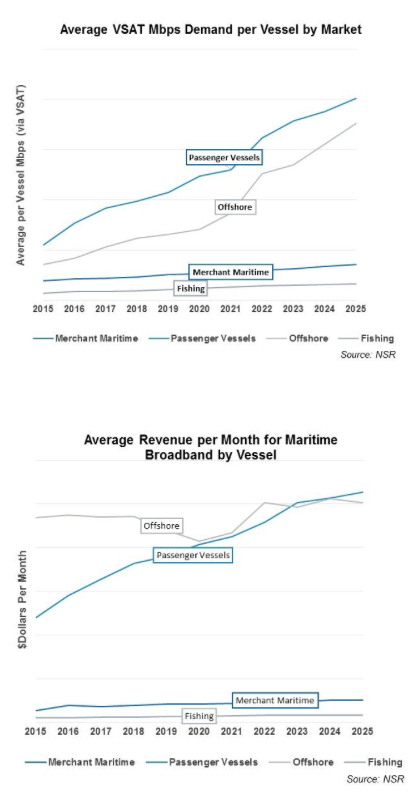 According to NSR's latest Maritime SATCOM Markets, 4th Edition report, maritime satcom markets will see the average amount of VSAT Mbps demand per vessel (at worst) nearly double over the next 10 years. Combined with the increase of VSAT adoption amongst maritime vessels, and broadband SATCOM adoption in general on the rise, the size of the pipe available to maritime end-users will increase significantly. However, outside the passenger segment that is driven by insatiable demand for personal device connectivity, nearly all markets will see a much slower rise in the average amount spent on broadband connectivity by vessel over the same time period.
That leaves only three options for maritime satcom service providers to significantly grow revenues:
Lower your cost of doing business
Win vessels from or win more than your competitors
Sell more than just connectivity
The satcom sector at large is hard at work on item #1 – HTS offerings, the 'capacity gut' and pricing pressures, which my colleague Blaine Curcio has written extensively about, all aim to lower prices for service providers in one way, shape, or fashion over the next ten years. All those help to lower the cost of doing business for a maritime service provider, as capacity leasing still remains a core expense for any satcom service provider. That leasing cost is also a driving pressure for consolidation amongst aeronautical and maritime service providers, and further helps improve the 'cost of doing business' equation on a marginal basis – distribute more fixed costs across end-users, and you lower your cost of doing business. Leverage time and geographic dispersion amongst the different end-user groups, and you can further maximize network utilization and reduce the 'cost of doing business'.
Item #2 is always in flux within maritime satcom service providers, and within specific sub-segments of the maritime market. None of the "win vessels from your competitors" was more visible than Harris Caprock's win of Carnival Cruise Lines connectivity contract, and one could argue a key contributing factor to MTN's sale to EMC. Today, although specific end-user names are infrequently mentioned in press releases, the secured role of the incumbent service provider is no longer a guarantee with "moved to" and its synonyms appearing almost as frequently as "renewal" in press releases. While some of the new business is in-fact from new vessels, sentiments surrounding end-user churn are building.
However, if you assume that 'winning' is key to growth, and that selling more than connectivity is a key to winning – then just what exactly do you need to win the sale? Increasingly, those services look like some form of on-board server infrastructure that is owned and managed by the service provider or network operator. Where the difference emerges is how 'open' that server or the network itself is for outside application providers.
Inmarsat has perhaps taken the most publicly vendor-agnostic approach with their "Inmarsat Service Enablement Platform" and dedicated developer portal. Although it is unclear just what impact a third party application developer would have on the "role" of a service provider – there is a clear path to decouple the application, the service provider, and the end-user in the Inmarsat Ecosystem. In a sense, the platform looks to bolster the status-quo – where maritime end-users are 'in the captain's chair' in terms of the applications they deploy from the (approved) vendors they wish to use.
Other Service Providers are instead taking the lead in terms of hardware and application development – largely all built on shore-side 'best of breed' web 2.0 technologies and practices. You can read the rest of this article here.