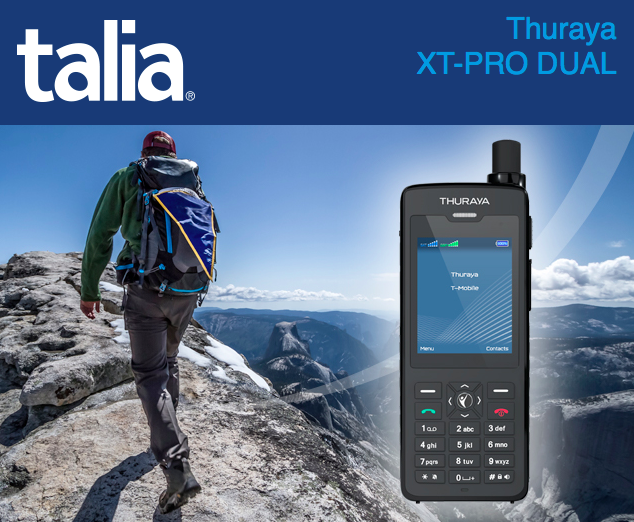 A two-in-one product isn't always what it's made out to be, and even if whatever the widget is that is supposedly Earth shattering, the price usually makes the product out to be cost prohibitive. But that is not so with Thuraya's XT-PRO DUAL a dual-mode, dual-SIM phone that bridges the gap between satellite and GSM communications. With both a satellite and a GSM SIM card call costs are kept to a minimum with connectivity anywhere, no matter where you are. Thuraya's XT-PRO DUAL is now available from Talia.
The XT-PRO DUAL's body is shockproof, water and dust resistant and comes with advanced navigation capabilities through GPS, BeiDou, Glonass and Galileo to offer flexibility in all areas. Thuraya's comprehensive satellite network provides uninterrupted communications in more than 160 countries across Europe, Africa, Asia and Australia; and in GSM-mode the phone supports most 2G/3G frequencies across the world.
The Thuraya XT-PRO DUAL is now available from Talia in dual mode, dual SIM which enables one to communicate seamlessly in satellite and GSM mode: the world's first phone to combine dual-mode and dual-SIM, the Thuraya XT-PRO DUAL has two SIM card slots to provide flexibility and choice.
Features include:
Dual mode, dual SIM
SAT and GSM "Always On"
Advanced navigation capabilities
Powerful battery life
Glare resistant Gorilla glass display
Dedicated SOS button
Rugged design
Incoming call notifications in satellite mode
Talia works with Thuraya to provide connectivity to its customers, and Talia is the sole service partner in Iraq.