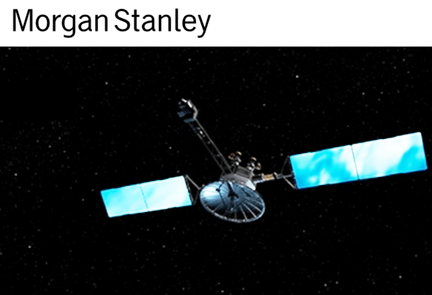 On December 11, the 2nd Annual Morgan Stanley Space Summit in New York was in session — this event included participation from a range of private and public space companies, regulators and investors, with discussions centered on national security, Earth Observation (EO), launch, broadband, as well as hypersonic transport.
Here are Morgan Stanley's high level takeaways from the event:
Government involvement has increased, from the Department of Commerce to the military, with the FY20 NDAA establishing the Space Force as a separate military branch in the US. The House is expected to vote on December 11, 2019, with the Senate to consider at a later date.

There is a greater emphasis on financial discipline in the industry, with a focus on developing the building blocks for space and sound business model fundamentals vs. "gas stations in space."

Private equity being priced a bit tighter? Private investment has continued to flow into the space industry through 2019, but challenges with respect to late stage financing may grow, as investors expect progress to be made by the end of 2020.

As it relates to national security, the DoD/IC will remain a technological leader in various sub-segments of space, though demand for actionable intelligence will drive particularly high demand for analytics and the application of ML/AI going forward.

Technological emphasis included: cyber, GPS, communications, data and analytics, SAR, propulsion, travel, space situational awareness/orbital debris mitigation.

Investor interest is increasing... Total attendance for the summit was up over 100% YoY including investor attendance that tripled YoY.
Here are some key milestones and catalysts that Morgan Stanley expects to develop in the year ahead:
OneWeb & Starlink Launches: OneWeb plans to launch > 30 satellites per month in late 2020. Meanwhile, SpaceX Founder Elon Musk has said that Starlink needs 400 satellites to have continual coverage of limited geographies, and 1,000 satellites to be economically viable.

GEO Providers Focused on Mobility Opportunities: Both ViaSat and Intelsat noted areas like inflight connectivity and maritime as growth drivers moving forward. ViaSat remains on track to launch its first ViaSat-3 satellite in 1H21 with a direct insertion launch.

Space Travel: Virgin Galactic plans to start commercial flights in mid 2020, while Blue Origin is planning crewed flights on the New Shepard.

NASA Commercial Crew Program: Boeing is planning an uncrewed Orbital Flight Test on December 19, 2019, with the CST-100 Starliner Crew Flight Test estimated for mid 2020. SpaceX is targeting no later than January 4, 2020 for an in-flight abort test of the Crew Dragon, with the Crew Dragon Demo 2 in 2020.

Space Force? The House and Senate Armed Services Committees (HASC and SASC) completed the FY20 NDAA conference report earlier this week that recognizes space as a warfighting domain and establishes the U.S. Space Force. The legislation now heads to vote in Congress, with the expectation of passage and signing into law by the President later this month.

More Capital Market Events? CNBC has documented comments from the leadership at SpaceX, Blue Origin, Rocket Lab, and Spire, with regard to various companies' plans to access capital or go public.
Virgin Galactic (SPCE, OW, $22)
Following the company's initiation of SPCE earlier this week, the firm hosted the CEO, George Whitesides, for a fireside chat. The conversation revolved around the commercial launch, the potential for hypersonic P2P travel, and milestones ahead.
Starting with Phase 1, the company noted its use of existing technology and architecture (X-15 in 1960s), thus supporting its 2020 commercial launch. As it relates to Phase 3, the company sees the long-haul premium market today at ~$300-400B (MSe $800B in 2040) and expects it to reach $500B in the next 5-10 years. Moreover, the company believes the technology from Space Tourism, such as the use of lightweight structures going through heavy reuse, maintenance / operability at rate, and guidance / navigation experience will support its Phase 3 efforts. That said, work needs to be done on the areas of ceramic composites and propulsion, where the latter is a long-lead item.
Lastly, SPCE reiterated expectations for a commercial operations launch in 2020 with the scaling efforts materializing in 2021.