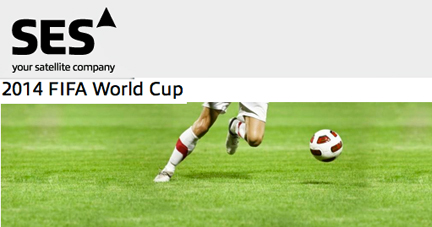 [SatNews] With the FIFA World Cup, SES (NYSE Euronext Paris and Luxembourg Stock Exchange: SESG) are transmitting the event live to millions of homes worldwide.
The World Cup 2014 is certainly the largest sporting event that SES has covered in the last 10 years as demand for satellite capacity over Brazil to cover the football matches in 12 different venues is high. Coverage hours that SES satellites will be delivering are more than 39,000 (representing an increase of almost 25 percent since April 2014).
Leading broadcasters from around the world have secured more than 450MHz of SES Occasional Use capacity aboard SES's satellites to deliver 2014 World Cup broadcasts to audiences throughout North America, Latin America and Europe. SES's NSS-806, SES-6 and NSS-7 spacecraft will enable content contribution and distribution feeds. Broadcasters will also use other SES spacecraft together with the ground infrastructure, to extend the distribution of World Cup coverage into other regions, including Asia, Australia and the Middle East. SES's AMC-9 satellite, for example, will be used to reach viewers in Mexico and the U.S., while SES-1, SES-2, SES-4, SES-5, SES-6 and AMC-1 will also play integral roles in helping broadcasters reach a global audience.
For more information on the coverage please visit http://www.ses.com/fifa-world-cup