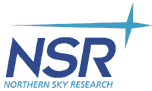 [SatNews] NSR's VSAT and Broadband Satellite Markets, 13th Edition is a long-standing industry analysis and forecast of all key market segments within the overall satellite broadband sector, including enterprise VSAT networking and satellite-based consumer broadband Internet access.

The study assesses the installed base of sites or subscribers in six different regional markets, investigates trends impacting market growth, forecasts service and equipment revenue, and predicts satellite capacity requirements for provisioning each market vertical. Classic C-band and Ku-band coverage and HTS coverage across both GEO and MEO (O3b) is now a standard part of this report. In addition, this study provides a vertical, application, network and access technology segmentation that allows the reader to focus on market segments most relevant to their business.
The main issues and questions addressed in the study include:
What are the trends driving or restraining growth in the installed base of sites or subscribers for each market vertical?
What are the trends impacting different access technologies, network designs and vertical applications for enterprise VSATs?
Which market segments and which regions are most likely to benefit from new demand or expansion of existing services? Which are under pressure from terrestrial competition?
Who are the main players in each industry segment, and what have been their key successes in the last year?
What are the revenues to be generated from service provisioning and customer premises equipment sales in each region and market vertical?
What is the satellite capacity demand for each service in each region, and how is this being provisioned?
NEW in this Edition—NSR has constantly worked towards making its research more relevant to all players in the satellite industry across space segment, ground segment and service providers. The VSAT and Broadband Satellite Markets, 13th Edition study adds five new segments to achieve this relevance. For consumer broadband, this means data is now split by urban, suburban and rural/remote subscribers. For enterprise VSATs, NSR has added segmentation by verticals, such as banking, education and others. Data is further split by SCPC or TDMA access technology and by network design to cover Star, Mesh and Point-to-Point networks. In addition, with the growing importance of arctic exploration, NSR has added the Polar region to the regional breakouts for enterprise VSATs.
Additional information regarding the company and this report is available at this infopage.