SWE-DISH Satellite Systems AB has been awarded approval for the SWE-DISH Suitcase® CCT120 ultra-portable SATCOM terminal to operate on the Skynet satellite system.
The Suitcase CCT120 is a highly compact and quick-to-air broadband satellite terminal,
featuring a 1.2-meter antenna and advanced CommuniCase® Technology (CCT)
. Skynet approval assures that the Suitcase CCT120 is deployable on Paradigm's next-generation satellite systems. SWE-DISH Satellite Systems AB, a DataPath® company, specializes in compact, quick-to-air and easy-to-use mobile satellite communications (SATCOM) equipment,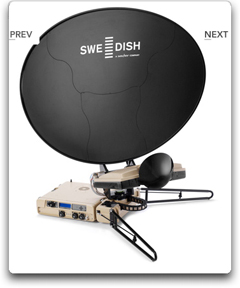 Paradigm, part of Astrium Services, is the owner and operator of the Skynet 5 system
and is responsible for delivering secure communications services until 2020 as part of a service provision contract with the UK Ministry of Defence (MoD).
Paradigm also provides NATO‑standard, secure, and survivable SATCOM services to governments, armed forces, international treaty organizations and businesses around the world
.
The Suitcase CCT120 is
part of the CommuniCase Technology line of products, which is based on a common modular system architecture that features multiple modems, amplifiers and transceivers (Ku, Ka and X band)
that can easily be switched out and plugged in to another CCT product or for a new system configuration. This feature enables users to quickly adapt systems for rapidly evolving operational needs.  
"For a new product such as our
Suitcase CCT120, the Skynet approval is excellent confirmation of the quality and performance of the terminal
," said
Lars Jehrlander
,
CEO of SWE-DISH
. "Key milestones and significant goals along the capability roadmap of the CCT line, including this approval, have been achieved time and again. Most importantly, delivering the best product and service to our customers is at the forefront of what we do."