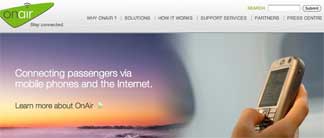 [SatNews] Connectivity in air is commonplace, and growing daily.
OnAir today announced Dassault Falcon Service (DFS) as an official Reseller Partner of OnAir's inflight connectivity solution for the iconic Falcon 7X at the Dubai Air Show.
As a subsidiary of Dassault Aviation,
DFS is the leading Falcon service center and fixed-based operations provider.
Through DFS, Falcon 7X owners and operators now have access to the most complete communication suite of products ever deployed on a large cabin long range business jet.
OnAir's inflight connectivity solution for the 7X includes two products: Mobile OnAir and Internet OnAir.
Mobile OnAir operates in exactly the same way as
international roaming, allowing passengers to use their mobile devices during flights for calls, text messages, email and Internet browsing
. Internet OnAir is an inflight Wi-Fi hotspot.
Jean Kayanakis
,
General Manager of DFS
, said, "We are very proud to partner with OnAir to provide our customers the most cutting-edge passenger connectivity technology available today. Not only can OnAir uniquely provide global coverage, but also the airborne hardware is very small and light, and simple to install."
OnAir has the most extensive network of regulatory authorizations and roaming agreements and uses Inmarsat's SwiftBroadband, a satellite network specifically designed to provide consistent worldwide coverage.
Ian Dawkins
,
CEO of OnAir
, said, "The market has reacted so positively to the deployment of our lightweight solution on Dasnair's Falcon 7X that it was natural for OnAir to partner with the most experienced Falcon service center with deep expertise on Falcon family aircraft. Partnering with DFS means we are working with the very best people to offer Falcon 7X operators a combination of the innovation and service levels they expect for their state-of-the-art aircraft.