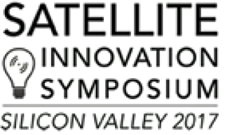 Regarding innovation, American writer and management consultant Meg Wheatley stated, "Innovation is fostered by information gathered from new connections; from insights gained by journeys into other disciplines or places; from active, collegial networks and fluid, open boundaries. Innovation arises from ongoing circles of exchange, where information is not just accumulated or stored, but created. Knowledge is generated anew from connections that weren't there before."
How appropriate an analysis of innovation are her words... and they are certainly applicable to the driving goals that support the upcoming Satellite Innovation Symposium Silicon Valley 2017.To be held on October 2 and 3 at the Computer History Museum in Mountain View, California, the Satellite Innovation Symposium will delve deeply into key market changes as well as pinpoint the imminent technologies and projects that will become the standards in future years.

Consider — while infrastructure and capital have dominated the SATCOM market for decades, major disruptions to the industry will be caused by innovations that will change currently held concepts, provide new solutions for today's business concerns as well as ensure business advantages and vitality for those leaders who can avail themselves and put into practices new ideas and technologies.
Staid business practices, leaders who lack foresight, companies unwilling to take a look at new methods of operation, and the inability to recognize channels of change that benefit future earnings, those paradigms will ensure companies that lack the drive to recognize the future will remain also-rans.
Satellite Innovation Symposium will ensure attendees are made aware of the tools that can assist them in building and growing their businesses. Technology that is rapidly evolving, mergers, acquisitions and the influx of new professionals entering the space industry are changing satellite market dynamics at an accelerated pace.
Hosted in Silicon Valley, the Satellite Innovation Symposium will closely examine the permutations that are occurring within, and without, established channels. Innovative new players and established, leading organizations will be brought together to present a more complete and clearer picture of the future of space.
Dynamic speakers will host a series of panels designed to address exciting innovations as well delineate the market forces that will guide the use of these technologies and business practices into the future. These panels include:
— Ground-Based Ecosystems of the Future
— The VC Role in Satellite Innovation
— New Horizons in Space: The Innovation Landscape of the Future
— Manufacturing and Servicing in Space: New Solutions for What is Needed
— Staying Ahead of Technology: Robotics, AI, 3D, Big Data Analytics and more...
— Satellite Constellations
— The New Roles of LEO and MEO
— Government as Innovators: Incubators, Investors and Customers
— Digesting Software's New Role
— Satellite Operator Challenges
— Mobile Satellite Connectivity
— Intersection of Launch Innovation and Economics
— Innovative Partnerships and New M&A Strategy
— New Space Clients and The Internet of Things
— Cyber Security
— Secure Satellite Systems of the Future

Leading the innovation charge will be speakers from…
Aerojet Rocketdyne
Airbus Defense and Space Inc. - EADS
Airbus Safran Launchers
And One Technologies
AsiaSat
AvL Technologies
Ball Aerospace & Technologies Corp
Bessemer Venture Partners
Blue Sky Network
Clarke Belt 2.0
Descartes
DFJ
DigitalGlobe
DurieTangri
Finance Information Group
GVF
Hogan Lovells
InQTel
Iridium Communications
Kratos
Kymeta
Made In Space Inc
ManSat
McKinsey & Company
MSUA - Mobile Satellite Users Association
Northern Sky Research - NSR
Office of the Secretary of Defense for Space Policy
Orbital ATK
Phasor
Qualcomm Ventures
Quilty Analytics
Raytheon
SES Government Solutions
SIA - Satellite Industry Association
Sierra Nevada Corp.
Silicon Valley Space Center
Spaceknow
SSL
SSPI
Tek Ventures
Thales Alenia Space
The Aerospace Corporation
The McLean Group
ViaSat
Wells Fargo Securities
XipLink
XL Insurance America
Highly recommended is your participation with the Satellite Innovation Symposium.
Future business success is yours to firmly grasp once you have been made aware of the upcoming technologies that will change the history of your business and space… for the better…
To register for this important symposium, please access this link:
For additional symposium details, select this link...