[SatNews] Can you believe that 100Mbps single session download to an LTE handset?

Smartphone adoption is the fastest growing consumer trend in history—the unprecedented transfer of high volumes of data traffic is driving growth of 3G/LTE networks. This in turn presents tremendous growth opportunities for mobile operators, along with considerable challenges.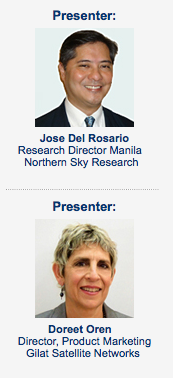 How can mobile operators meet and overcome these challenges to enable utilization of high speed networks, and how can coverage be profitably extended to the most remote areas? Gilat Satellite Networks is providing a free, live webinar on November 5, 2014 at 16:00 Singapore Time (GMT +8)
The quick answer is satellite backhaul. For a comprehensive discussion you are invited to attend an informative webinar presented jointly by Jose Del Rosario, NSR's Research Director-Manila, and Doreet Oren, Gilat's Director of Product Marketing.
Join this free webinar to learn from the experts about:
Cellular trends and growth drivers
New market opportunities
Reducing CAPEX and OPEX while meeting performance challenges
Proven solutions on 3G/LTE networks
This free webinar is for mobile operators and satellite service providers looking to leverage these new opportunities.

Upon registering, you will receive a confirmation email, with directions for joining the webinar.
Title: Staying Ahead of the Cellular Data Traffic Surge
Date: Wednesday, 5 November 2014
Time: 16:00-17:00 Singapore Time (GMT +8)
Space at the Webinar is limited.
Click here to reserve your seat