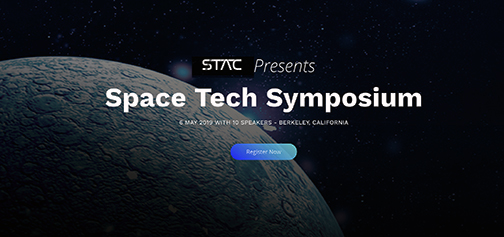 The 2nd Annual Space Tech Symposium @ Berkeley will be underway on May 6 from 4:30 to 8:30 p.m. and is presented by Space Technologies at Cal (STAC).
Attendees will be able to network with top space startup CEOs, Berkeley faculty as well as researchers as they discuss the future of space technology.
The event will be taking place at Sibley Auditorium at the Bechtel Engineering Center on the U.C. Berkeley campus and will be bringing together speakers from NASA, CASIS, Swarm Technologies, Spire Global, U.C. Berkeley, and more for a conversation on mobility between space and non-space industries. Panels are established to discuss Robotics in Space, Biology in Space and Earth-Space Services.
Attendees will have the opportunity to:
Gain first-hand insights from top founders in the space world
Promote your company to 250+ highly technical students, executives, and investors from across the Bay Area space community
Learn from founders how technical expertise can be applied to break into a foreign field and build a thriving space startup
Hear exciting and cutting edge panelists from three fascinating topics
This event is for everyone, from the space fanatic to a student or company/organization founder trying to break into a new field using existing technical skills.
A full list of panelists can be viewed at this direct link...
STAC is a student engineering organization of 60 students at Berkeley focused on developing innovative space technologies and research. STAC is creating a collaborative space program by incorporating multiple universities, research labs and industry partners to enable space research projects such as High Altitude Balloons, Microgravity Experiments, CubeSats, and more.