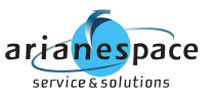 The next Arianespace Ariane 5 to orbit satellites for Europe's Galileo global navigation system has begun taking shape at French Guiana, as build-up of the heavy-lift vehicle is now underway inside the Spaceport's Launcher Integration Building.
Following the established assembly flow, the process began with this week's positioning of the launch vehicle's central core cryogenic stage over one of two mobile launch tables used for Ariane 5. It was followed by integration of the two large solid propellant boosters — which were installed directly on the launch table and mated to the core stage, clearing the way for placement of the upper stage, topped off with the vehicle equipment bay.
Once the Ariane 5's basic build-up is completed under the direction of production prime contractor ArianeGroup, it will be moved to the Spaceport's Final Assembly Building for installation of its four Galileo FOC (Full Operational Capability) satellite passengers – which currently are undergoing their own pre-flight preparations at the Spaceport. Liftoff is scheduled for July to a deployment in circular medium Earth orbit (MEO).
The heavy-lift vehicle for Arianespace's upcoming Galileo launch — designated Flight VA244 in the company's launcher family number system — is an Ariane 5 ES version, equipped with the EPS storable propellant upper stage. This propulsion system replaces the ESC-A cryogenic upper stage utilized on Ariane 5 ECA variants, which typically carry telecommunications payloads to geostationary transfer orbit (GTO).
As Europe's own global navigation satellite system, Galileo is operated under civilian control, offering guaranteed high-precision positioning around the world. Its initial services began in December 2016, allowing users equipped with Galileo-enabled devices to combine Galileo and GPS data for better positioning accuracy. The European GNSS Agency (GSA) is responsible for operating the Galileo satellite navigation systems on behalf of the European Union. This authority was transferred to GSA from the European Space Agency (ESA) in July 2017. Galileo spacecraft are built by OHB System in Bremen, Germany, and the navigation payloads provided by Airbus-owned Surrey Satellite Technology in the United Kingdom.