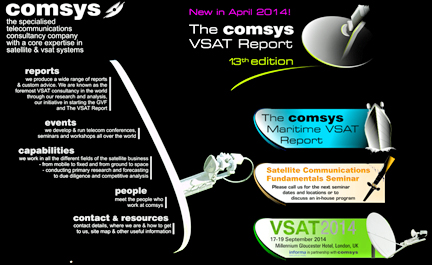 [SatNews] According to the latest edition of the COMSYS "VSAT Report" the VSAT industry has powered through the economic downturn of the previous few years and has exhibited significant growth in both hardware sales and service revenues.
This has been driven primarily by demand from the financial, carrier and government sectors as well as specialist vertical segments including mining, oil & gas, aeronautical and maritime. Users expect reliable broadband intensive connections regardless of location and VSAT services have grown steadily on the back of this demand.
COMSYS, the world leader in analysis of the VSAT industry, today published the 13th edition of its renowned report on the state of the market and forecasts for the next three years. The report has been published every two years since 1987 and is the result of two man years of primary research into the VSAT market – involving interviews and visits to all of the major manufacturers and over two hundred VSAT operators around the world. VSAT (Very Small Aperture Terminal) networks are not just a primary driver for satellite communications links into remote areas, in which they serve as markers for digital inclusion, cellular backhaul and mobility, but are a critical technology within some of the world's largest corporate networks in the USA and Europe as well as the developing world. The latest report comprises over 1,500 pages with 204 tables and 231 figures and charts, and provides in-depth analysis of thirty VSAT different platforms and over 160 VSAT operators worldwide. The report's primary findings are as follows:
Operator VSAT service revenues grew by 3.9 per cent between 2011 and 2012 from $4.57 billion to $4.75 billion with the primary engines of growth being Europe, Asia / Pacific and North America.
Stronger sales in the enterprise business were primarily the result of large deployments for government and financial applications as the need to extend connectivity and government services gained ground in many countries and several large programmes were initiated or extended. On a smaller scale, sales through carriers for network extension and business continuity (coupled with specialist services for maritime, cellular backhaul and utilities) also grew robustly.
The market for "classical" VSAT terminals (star data configuration) grew in sales volume in 2012 to around 360,000 units. Hub sales grew by five per cent to over 490 in 2012 as operators continued to establish local operations in markets opened up by international fibre capacity and to invest more rapidly to take advantage of short term opportunities. Enterprise hardware revenues rose by 7 per cent to $815 million and operator service revenues grew 6.5 per cent to over $3.05 billion, up from $2.87 billion in 2011.
Highlights include new networks and extensions for banking ATMs, government projects, lotteries and utilities as well as hybrid business continuity and carrier extension in the enterprise segment. Corporate services saw demand for new sites and higher data rates for offshore oil & gas, land-based drilling, disaster and emergency applications, mining, GSM backhaul, maritime and aeronautical services.
Average bandwidth demands are growing - in some cases doubling annually - as users expect reliable high bandwidth connections regardless of location. Video and social networking applications are stimulating the need for much higher data rates in VSAT networks, even for secondary connections. comsys
Government "rural digital inclusion" projects rely heavily on VSAT technology and remain a source of major business as solving "the digital divide" continues to rate highly on the political agenda.
The Military - particularly the US DoD - remains reliant on VSAT technology but budget cuts and sequestration in the US, coupled with service renewals, have changed the service landscape. The withdrawal from Afghanistan by the end of 2014 is expected to cause further upheaval and difficulties for some operators. However, the level of military demand in other countries, especially in Asia, has been maintained. • Lotteries continue to favour VSAT as cost-effectiveness has grown (when compared to terrestrial solutions), but sales have been largely confined over the past two years to the expansion of existing networks rather than new contracts.
TDMA terminal prices continued to fall, but not as dramatically as has been witnessed in previous years. However, commitments for consumer satellite projects raise the possibility that prices could reduce dramatically in the future. The report also addresses Ka-band, spot-beam, high-bandwidth spacecraft which are expected to increase global FSS capacity by an order of magnitude to almost 1.8 Tbits / second by 2016.
As of mid-2013 consumer satellite Internet services served over 1.65 million subscribers worldwide, the majority of which are in the United States.
2014 will see O3b Networks initiate commercial service and potentially stimulate demand in some markets for local VSAT hub services. Inmarsat's $1.6 billion Global Xpress Ka-band mobility satellite constellation will also begin commercial operations, promising to extend the addressable market for maritime VSAT services.
Intelsat's innovative EpicNG initiative, Hughes' Jupiter-2 and ViaSat's ViaSat-2 satellites point towards the future development of the satellite industry.
The Ka-band spot-beam satellite systems now in service have already begun to substantially change the competitive environment in several regions of the world and are changing conventional bandwidth supply and demand economics.
The 13th edition of the COMSYS VSAT Report since its inception in 1987 is now available. The report provides in-depth analysis of all of the major players in the global VSAT market based on COMSYS' unique combination of company visits, background research and personal contacts within the industry. More information on the report can be found at http://www.comsys.co.uk/.