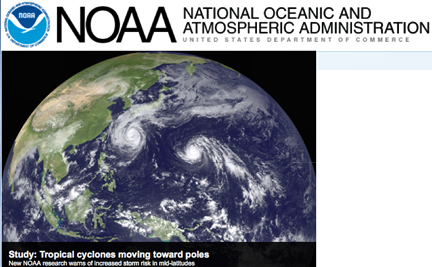 [SatNews] NOAA signed a Memorandum of Understanding with the Inter-American Development Bank (IADB) to explore cooperation in promoting programs and projects that use NOAA satellite imagery to quickly mobilize resources to areas in Latin America and the Caribbean affected by life-threatening storms, flooding, volcanic eruptions and other disasters.
"As in the United States, severe weather can happen at any time in Latin American and throughout the Caribbean," said Mary Kicza, assistant administrator of NOAA's Satellite and Information Service. "It's imperative NOAA provide satellite imagery and other data to support our neighbors, as they keep their citizens informed and prepared in the face of weather hazards."
Last week, at a ceremony in Washington, D.C., Kicza and Bernado Guillamon, manager of the IDB's Office of Outreach and Partnership, signed the MOU, which covers a period of five years. Kicza was joined by representatives from NOAA's Satellite and Information Service, National Weather Service, National Ocean Service, National Marine Fisheries Service and Office of Oceanic and Atmospheric Research.
"With this partnership, we expect to expand our knowledge base and our ability to support our member countries' efforts to build resilient instruments and practices, along with more effective financial disaster risk management strategies and instruments," said Guillamon. He added that the use of satellite imagery "could also significantly expand our capacity to respond to disasters and improve reconstruction efforts."
The IADB, a multi-lateral organization founded in 1959, is the leading source of development financing for Latin America and the Caribbean. IADB provides loans, grants, technical assistance and conducts research to reduce poverty and inequality and promote sustainable development in Latin America and the Caribbean.
Holly Bamford, assistant administrator of NOAA's National Ocean Service, said, "The need for coastal intelligence data and information is becoming increasingly important to the global economy. By combining data such as tidal observations, wind and wave information, along with data from other sources throughout NOAA, this MOU will help better inform Caribbean basin decision makers and the public on ways to mitigate damage from natural disasters."
Kicza said, "Being at the threshold of the 2014 Atlantic hurricane season, implementing this MOU couldn't have come at a better time. NOAA will work closely with the IADB, with the expectation the MOU can be extended beyond five years."
NOAA's mission is to understand and predict changes in the Earth's environment, from the depths of the ocean to the surface of the sun, and to conserve and manage our coastal and marine resources. Join us on Facebook, Twitter and our other social media channels.