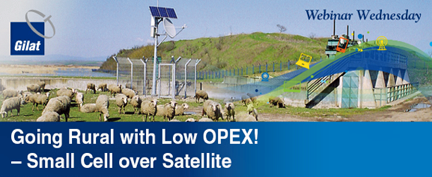 [SatNews] Join Gilat for a free, live, webinar on February 12th, 2014 at 11:00 a.m., EDT— this webinar will discuss what is required to bring cost effective cellular connectivity to remote areas.
Small cells over a satellite backhaul are indeed the prerequisite; however, significant OPEX reduction and an enhanced user experience are best achieved with optimization of the integrated solution. Gilat, an expert in satellite backhaul, will share insights on how to economically reach remote mobile users. The webinar will focus on the following areas:
Unique requirements for remote connectivity
Satellite bandwidth efficiency techniques
Power efficiency as a major component for TCO reduction
This webinar is a "must" for Mobile Network Operators and satellite service providers looking to learn how to bring low OPEX connectivity to remote sites. Upon registering you will receive a confirmation email with directions for joining the webinar.
Title: Going Rural with Low OPEX! – Small Cell Over Satellite
Date: Wednesday, February 12th, 2014
Time: From 11:00 a.m., EDT, to 12:00 p.m., EDT
Space at the Webinar is limited—please register as quickly as possible at this direct infopage link.