[SatNews] Back on May 23rd, Mitsubishi Electric Corporation completed its development of the ALOS-2:DAICHI-2 advanced land-observation satellite, based on a contract awarded to the company by the Japan Aerospace Exploration Agency (JAXA) in 2009.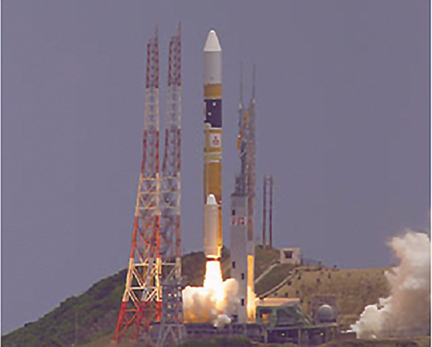 Then, on May 24th, the company and JAXA launched the H-IIA Launch Vehicle No. 24 (H-IIA F24) with the satellite onboard at 12:05:14 p.m. (Japan Standard Time, JST) from the Tanegashima Space Center. The launch vehicle flew smoothly, and, at about 15 minutes and 47 seconds after liftoff, the separation of the DAICHI-2 was confirmed.
Mitsubishi Electric is providing the spacecraft, sensor and ground systems, including data processing, and has confirmed operation of the ALOS-2 satellite system. This is a follow-on mission of its predecessor ALOS satellite and is equipped with the world's most advanced L-band Synthetic Aperture Radar (SAR) for improved resolution and wider observation range than ALOS. The satellite is expected to contribute significantly to Earth Observations (EO) in terms of disaster monitoring, environmental protection, resource exploration and forest monitoring.
Mitsubishi Electric has participated in more than 450 domestic and international satellite projects as either the prime contractor or a major subcontractor. The company has developed and delivered numerous EO satellite systems and observation sensors to JAXA and other space-related governmental institutions and agencies.
Recently, Mitsubishi Electric was selected as the contractor to supply JAXA with the Greenhouse Gases Observing SATellite-2 (GOSAT-2) satellite system, which the company is now developing. Going forward, Mitsubishi Electric will continue to contribute to Japanese earth-observation satellite systems as a leading manufacturer in fields ranging from security to the environment.
For more info, please visit http://www.mitsubishielectric.com/
JAXA's infosite is located at http://global.jaxa.jp/