[SatNews] ... providing global coverage and 99.99 percent reliability.
11 March 2013: A 31-foot leisure boat stolen while moored in the Bahamas has been recovered thanks to Inmarsat technology and GOST™GPS tracking.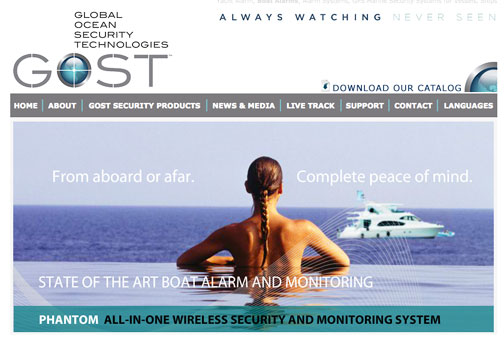 The Yellowfin, which is used for offshore fishing, was stolen from Marsh Harbor in the early hours of the morning after the vessel had arrived from the United States the day before.

Luckily, it was fitted with a GOST NT- Evolution security system, which enabled it to be located. The yacht was found drifting with no one on board and was successfully recovered.

Up to 64 wireless sensors can protect and monitor the vessel while five wireless relays allow the owner to control any AC or DC function on board. Or it can activate other devices, such as external sirens, strobes, or even pulse deck or cockpit lights when the alarm goes off.

The GOST NT-Evolution and other GOST Nav-Tracker systems use the Inmarsat network, providing global coverage and 99.99 percent reliability. GOST has received a medal from the U.S. Coast Guard for its assistance in vessel recoveries.

"We encourage our clients to ensure that the GOST NT-Evolution is armed when the vessel is not in use. Unfortunately the system was mistakenly left disarmed the night it arrived which would likely have prevented it from being taken in the first place.

"Luckily the two-way Inmarsat based GOST NT-Evolution system quickly located the stolen boat, which had minimal damage to the hull, engines, and electronics," said Brian Kane, Director of Research and Development at GOST.

"The client was grateful for the help the system was able to give and also the timely assistance of the Marsh Harbor Police Department.

"He was also very happy that he could still salvage his fishing trip," added Brian.

The NT-Evolution was developed to offer a marine-grade, water resistant, wireless security, monitoring and tracking system with global arm/disarm and relay control anywhere in the world, with a battery back-up.

Some insurance companies now require GPS tracking devices like GOST's to be installed on high-performance boats for which they offer premium discounts.