Ball has been awarded an extended contract for continuing to support the spacecraft that they built for NASA, the NOAA/NASA Suomi National Polar-orbiting Partnership (Suomi NPP) satellite. Their engineers designed and built the Suomi NPP satellite vehicle and its Ozone Mapping and Profiler Suite (OMPS) instrument, integrated all five of the satellite instruments, and performed satellite-level testing and launch support.​
Since its launch in 2011, Suomi NPP has provided life-saving data to weather forecasters and has given scientists new tools to help monitor the health of our planet. The sole source contract has a maximum ordering period of five years beginning March 7, 2017. Its observations help meteorologists improve the accuracy and extend the range of global forecasts three to seven days in advance of significant weather events, including hurricanes and winter storms. Suomi-NPP is part of NOAA's next-generation Joint Polar Satellite System (JPSS) constellation of polar-orbiting environmental satellites. Ball is also building the next-generation weather spacecraft, JPSS-1, expected to launch in 2017. Ball's OMPS instrument will also fly on JPSS-1 and all JPSS follow-on spacecraft.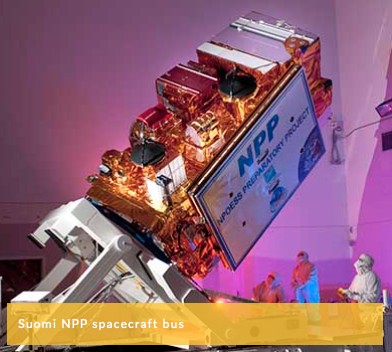 Jim Oschmann, Ball Aerospace vice president and general manager, civil space business unit said, "We are in a unique position to assist with essential sustaining engineering services and proud to have the opportunity to continue our role of providing critical spacecraft operations support to help Suomi NPP go beyond its original charter. The Suomi NPP satellite has significantly impacted everyday safety around the world—largely invisible to the general public and indispensable to the scientific communities at NASA, NOAA and the Department of Defense."
Suomi NPP has performed to the highest expectations of our nation's weather program for NOAA, and has met the stringent scientific requirements for NASA's long-term Earth observation datasets used in studying climate trends. The spacecraft met all expectations and is the primary polar-orbiting spacecraft for NOAA's operational weather forecasting mission. Over the course of 14 daily trips around the Earth, Suomi NPP observes our planet's entire surface twice each day—mapping both the daytime side and the nighttime side—flying in a polar orbit at 512 miles (824 kilometers) high, and logging more than 27,000 orbits since its launch.
Suomi NPP's five instrument systems monitor moisture and pressure, collect infrared and visible light, detect thermal radiation, create global moisture and temperature models and gather ultraviolet data to measure ozone levels via the Ball-built OMPS. Whether on land, on water or in the sky, Suomi NPP's weather-tracking platform has the technology to enhance safety in a variety of near- and longer-term applications.
Learn more about this partnership.