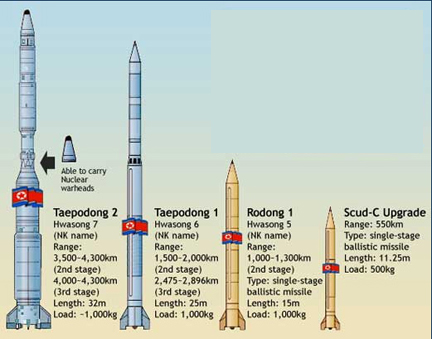 On the morning of April 5th, the North Korean government launched a missile over Japan, a missile whose payload was alleged to be a small satellite.
The liftoff occurred at 11:30 a.m. despite protests from Japan and the U.S., and there is now a
U.N. Security Council
session scheduled to discuss this action by North Korea. The flight path of the new North Korean multistage missile was over the northern portion of Japan — the first stage of the missile splashed into the sea between Korea and Japan, while the other two stages and the payload itself dumped into the Pacific Ocean. Not an auspicious satellite launch, to say the least, but a cause of concern in regards to the missile itself — which made its way closer to CONUS than had any previous North Korean launch. As could be expected, both China and Russia are far calmer over this launch than the U.S. and Japan — after all, both nations do share borders with the rogue state and have financial dealings with Pyongyang. You have to give the North Koreans credit this time — at least they warned authorities such a launch would occur, unlike their last machination that took place in 2006. And, even with all the bluster from nations attempting to halt the launch, the North Koreans know full well such is nothing more than the soundings of empty drums.