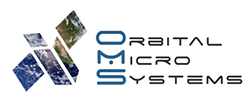 Orbital Micro Systems (OMS) has announced that William Hosack, the company's CEO, will speak about advances in commercial data processing and analytics applications using Earth Observation (EO) information from space-based assets, at the NewSpace Atlantic Summit.

The event takes place May 28 and 29, 2018, at Pavilhão do Conhecimento in Lisbon, Portugal, and is focused on the impact of New Space technologies on various industries within the Atlantic Ocean region. Hosack's presentation is scheduled for 16:30 hours on May 28.
In the session, "Space Infrastructures and Actionable Intelligence from Space," Hosack will highlight a private-public partnership being implemented to create a marketplace of actionable weather intelligence sourced from a broad range of terrestrial and space-based observation sources. In addition, he will discuss short- and long-term impacts of this intelligence on industries including insurance, maritime and air transportation, and agriculture.
He said that Portugal and the other countries adjoining the Atlantic Ocean have unprecedented opportunities to exploit the vast amounts of Earth Observation data collected by satellites to stimulate economic growth and prosperity. There are many space-based assets operated by commercial and government entities contributing to multiple datasets that can play a critical role in economic development and security.
The NewSpace Atlantic Summit is organized by the Space Frontier Foundation, SFF, in collaboration with the Portuguese Science and Technology Foundation, FCT, and the Ciência Viva Agency for Scientific and Technology Culture.