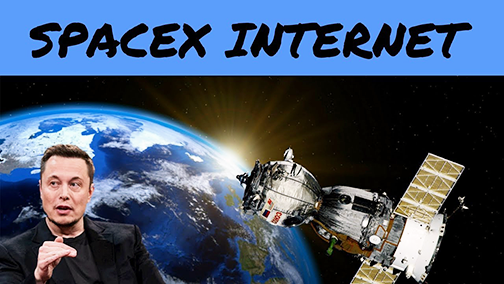 Elon Musk, when he is not arguing with the SEC over Tweets, or Wall Street over missed Tesla car production targets, is frequently busy talking about his SpaceX Starlink concept – which sees thousands of satellites girdling the planet.
In a new posting by journalist Chris Forrester at the Advanced-Television infosite, he relates that just a few days ago, Musk requested that SpaceX investors to raise an additional $500 million to help fund production of Starlink satellites. Musk, according to TMF Associates, is planning to launch a batch of Starlink craft during May, but has more than a few skeptical questions for SpaceX to answer.
Satellite communications consultant Tim Farrar said that an individual antenna to pick up and connect to Starlink's satellites will initially cost a worrying $500 each and could fall to nearer $150 over time and as volumes increase. This is not a small investment for users although, in fairness, if that user is living in a 'no reception' area, then funding an antenna would be a welcome investment for broadband access.
Farrar also quoted from a WSJ report that states that Musk's financial team only managed to raise a mere $44 million out of an earlier $400 million cash raising exercise.
Farrar said, "That makes me wonder quite how much financial pressure SpaceX is now under. Certainly SpaceX is putting considerable pressure on others, notably the FCC, where it filed on April 5th for Special Temporary Authority to operate its initial tranche of Starlink satellites. SpaceX claims these satellites will be launched in 'early May', despite it not having received approval for the revised constellation plan that was filed in November 2018 and not even specifying how many satellites will be in this 'initial tranche'."
Farrar concluded by saying, "Would the launch of a few more demo satellites persuade investors that it's now worth putting more money into SpaceX to fund a questionable (some would say non-existent) Starlink business plan? Or is this going to end badly, with SpaceX running out of cash to fund both Starlink and its new Starship development projects?"
---

In addition, Chris is reporting that on April 24th, satellite operator SES announced a new deal for the company's fast-growing 'Networks' division.
The announcement covered delivery of broadband to Teleglobal's clients in 150,000 sites among Indonesia's 17,000 island archipelago. Teleglobal will take 1.3 GHz of capacity on SES-12.
The news came ahead of SES' quarterly numbers that are due on April 26th. Analysts at investment bank Exane/BNPP suggest that observers should not expect too much. The bank forecasts a 7 percent decline in the operator's important 'Video' division, although growth of 5 percent in 'Networks'.
Overall, the bank says to expect SES to report €478 million of revenues for Q1 (to March 31st) which would represent a 3 percent overall decline in organic revenues.
However, despite this gloom and a depressed share price, the bank says it remains positive on the SES prospects as far as the C-Band Alliance is concerned and the possibility of considerable benefits flowing from a FCC approval to restructure 180 MHz of C-Band spectrum over the U.S. to help 5G deployment.