[Satnews] On February 3, 2016, at the occasion of the International Space University (ISU) Board of Trustees meeting, a Memorandum Of Understanding (MOU) was signed between both organizations in the presence of Dr. D. Bearden, Member of the ISU Board representing The Aerospace Corporation.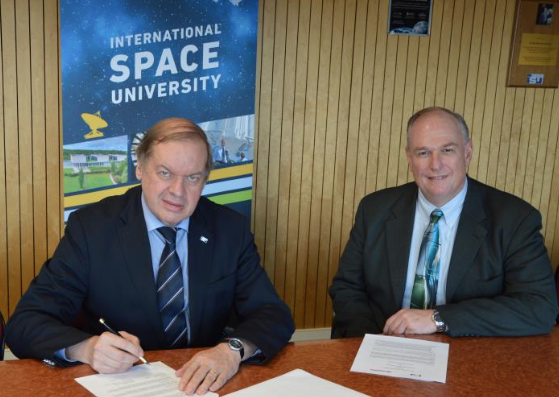 Both being non-profit organizations, many fields of synergy and potential cooperation could be explored under this agreement, such as:
Conduct research projects of common interest,
Detachment of The Aerospace Corporation staff to participate in course delivery in the ISU programs,
Accommodation of Master of Space Studies program interns in The Aerospace Corporation,
Sending of The Aerospace Corporation staff to the different ISU programs.
As Prof. Peeters, ISU President stated: "This agreement opens another opportunity for ISU to work together with an important space entity in the US space sector and is part of the ISU strategy to intensify its links with the USA."
Dr. Bearden, General Manager at The Aerospace Corporation added to this: "Aerospace has enjoyed a relationship with ISU over the years and a number of our employees have benefitted from participation in ISU's programs. We look forward to increasing our collaboration with this MOU."
The MOU will be implemented from 2016 onwards and is valid initially for 5 years, in which period without any doubt the mutual relation will further foster and grow.
The Aerospace Corporation is a California nonprofit corporation that operates a federally funded research and development center and has approximately 3,600 employees. It provides guidance and advice to military, civil and commercial customers to ensure the success of complex, technology-based programs. The Aerospace Corporation is headquartered in El Segundo, California with multiple locations across the United States.
The International Space University, founded in 1987 in Massachusetts, is now headquartered in Strasbourg, France. The University is the world's premier international space education institution, and is supported by major space agencies and aerospace organizations from around the world. The graduate level programs offered by ISU are dedicated to promoting international, interdisciplinary and intercultural cooperation in space activities. ISU offers the Master of Science in Space Studies and Master of Science in Space Management programs at its Central Campus in Strasbourg. Since the summer of 1988, ISU also conducts the nine-week Space Studies Program at different host institutions in locations spanning the globe. ISU programs are delivered by over 100 ISU faculty members in concert with invited industry and agency experts from institutions around the world. Since its founding, 25 years ago, more than 4000 students from over 100 countries graduated from ISU.