[Satnews] This liftoff is the first of up to 11 missions planned with Arianespace's launcher family during the coming 12 months, with as many as eight utilizing the workhorse Ariane 5.
Named Intelsat 29e, this relay platform is based on the Boeing 702MP spacecraft design and will be a solo passenger on the year-opening flight.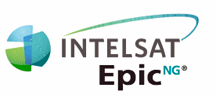 As the series-opening Intelsat EpicNG satellite, Intelsat 29e purports to be one of the most advanced digital payloads operating in the C-, Ku- and Ka- frequency bands. It will offer enterprise-grade broadband services to fixed and mobile network operators, aero and maritime mobility service providers, along with government customers. Coverage area is the Americas and over the North Atlantic (for sea and aviation routes).
With the propellant that was loaded during operations this week in the Spaceport's S5 payload preparation facility, Intelsat 29e will have a liftoff mass of just over 6,550 kg. Integration of Intelsat 29e on the Ariane 5 is planned for next week, enabling the completed vehicle's rollout to the launch pad on January 26.
Liftoff of the mission—designated Flight VA228 in Arianespace's launcher family numbering system—is targeted for the following night.
Follow Arianespace's launch activity at: www.arianespace.com.