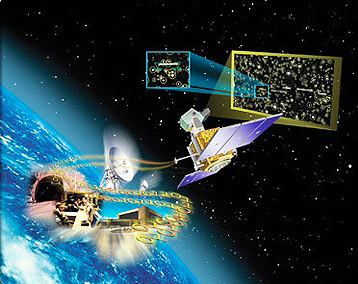 [SatNews] A Physics department research center here has been awarded almost $800,000 to team with colleges in Colorado and Chile to study space situational awareness.
The
Center for Space Situational Awareness Research
recently received a $791,500 grant from the
Air Force Office of Scientific Research
under the
Defense University Research Instrumentation Program
to develop a network of small telescopes for satellite tracking and characterization called the
Falcon Telescope Network
. This telescope network will form the basis for the cadets' education and research program in space situational awareness which is a critical national security issue.
"Space situational awareness is the foundation for all that the Department of Defense and Air Force does in space," said Dr.
Francis Chun
, one of the principle researchers for the center and this research project. "Without knowledge of what is in orbit around the Earth, all satellite systems from the International Space Station to GPS and Direct TV satellites will be more vulnerable to collisions and natural space weather hazards. The Air Force routinely tracks over 22,000 objects on a daily to weekly basis, but we believe there are hundreds of thousands of space objects in orbit that are too small for our current sensors to detect. Over time, space will only get more congested as more countries launch satellites and more collisions between space objects occur. All of this will have a negative impact on our lives from banking to weather forecasting to navigating to communicating."
Using the network, cadets will conduct cutting-edge research in space situational awareness with a specific emphasis on characterizing satellites through simultaneous observations taken from multiple telescope sites. The Academy research center is teaming with four colleges within the State of Colorado to locate and operate the observatories;
CSSAR
will provide the telescope, dome and instruments while the colleges will provide land, power, internet, and minor annual operations and maintenance. These colleges include
Ft .Lewis College
in Durango,
Colorado Mesa University
in Grand Junction,
Otero Junior College
in La Junta, and
Northeast Junior College
in Sterling. These colleges were selected to provide geographical diversity to the Falcon Telescope Network as well as to aid in their education and public outreach programs. The grant will provide these colleges a permanent telescope observatory that they can use for course work, laboratories and open houses to excite and inspire young students to consider a career in science, technology, engineering and mathematics.
Additionally, the grant includes the funding for a fifth telescope observatory in the country of Chile. The Academy is partnering with the
University of La Serena
and the
Mamalluca Observatory
near the city of Vicuna, Chile. The
Air Force Office of Scientific Research
's
South American Office for Aerospace Research and Development
is assisting Academy is formalizing the partnership. The telescope in Chile will provide Air Force Academy cadets a unique southern hemisphere capability that does not exist in the operational Air Force. In addition to their own telescope observatory, all of the grant partners will have access to the rest of the Falcon Telescope Network for astronomical and space observations.