On June 21, Canada's Maritime Monitoring and Messaging Microsatellite (M3MSat) will launch aboard a Polar Satellite Launch Vehicle (PSLV) from Satish Dhawan Space Centre in Sriharikota, India. Also on board will be the first demo satellite of the Canadian company, GHGSat.
The M3MSat mission aims to test and demonstrate the viability of new technologies that will advance Canada's capabilities in monitoring maritime traffic. M3MSat was developed jointly by the Canadian Space Agency (CSA) and Defence Research and Development Canada (DRDC) to meet complementary objectives.

The Canadian Maritime Monitoring and Messaging Microsatellite (M3MSat) is the latest of small-but-mighty spacecraft sent to test innovative technologies in space before they're deployed on full-scale missions. The mission aims to improve Canada's space-based capabilities to detect ships and manage marine traffic and will also test a device that could change the way we monitor the health and safety of satellites.
M3MSat demonstrates the kinds of unique solutions that space and new technologies can provide and is also a great example of collaboration between government, industry and academia to drive innovation in Canada's space sector.
Enhancing Canada's Maritime Traffic Monitoring
Automatic Identification System (AIS) technology transmits important information on ships' identity, heading and speed. Ships use AIS signals to detect other ships and avoid collisions at sea, and coastal authorities use them to enhance marine safety and monitor maritime traffic. The placement of AIS technology on satellites in recent years has revolutionized how we monitor and manage marine safety by providing a more complete view of maritime traffic. One of the main objectives of M3MSat is to build on and improve Canada's space-based AIS capabilities. Part of M3MSat's mission is to test an AIS antenna with advanced capabilities that promises higher performance for identification and conflict resolution of the signals. The compact antenna was designed by the University of Waterloo and is the first and only one of its kind.
While in space, M3MSat will also test a device, the Low Data Rate Service (LDRS), to ensure surveillance and data continuity when AIS receivers cannot provide real-time coverage. The LDRS will receive transmissions collected by stations in remote areas such as the Arctic. Then it will pass the information on to Canadian marine traffic control centers.
Improving Satellite Health Monitoring
The accumulation of static energy in a satellite is detrimental to its electronics. While it is possible to reduce the charge by raising the temperature of the spacecraft temporarily, the CSA currently has no way to determine when that needs to be done. M3MSat will test the Dielectric Deep Charge Monitor (DDCM), a device designed to measure the static energy that has accumulated in the satellites' electronics. If successful, the DDCM could improve the way we build and monitor the health and safety of satellites, and help extend the life of satellites in orbit.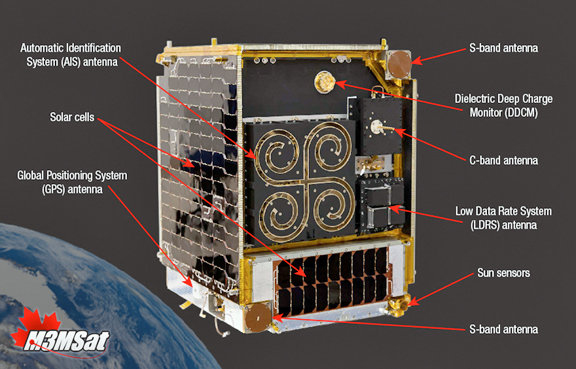 The smallsat's box-shaped frame weighs about as much as the average Canadian male (85 kilograms) and is about the size of most household dishwashers. It uses a new type of generic satellite platform design (developed by the University of Toronto Space Flight Lab) that could be used for future missions. This graphic illustrates the main components of the spacecraft.
In preparation for the intense experience of a rocket launch and the extreme temperatures associated with space flight, M3MSat has undergone a series of critical tests. Many of these were completed at the Canadian Space Agency's (CSA's) David Florida Laboratory (DFL), Canada's world-class spacecraft assembly, integration and testing centre located in Ottawa.
M3MSat will be launched by the Indian Space Research Organisation (ISRO) from Sriharikota, India, and will lift off aboard a Polar Satellite Launch Vehicle (PSLV) along with Canadian company GHGSat's first demonstration satellite. GHGSat will test a new way to measure greenhouse gas emissions from industrial facilities. The company has benefited from CSA funding, both through the Space Technology Development Program and the Earth Observation Applications Development Program.
After the launch, M3MSat will circle the Earth from pole to pole at an altitude of 505 km and will travel over Canadian waters approximately ten times a day. Once commissioned, the satellite will be owned by the Defence Research and Development Canada (DRDC) and operated by the Satellite Operations Centre at the CSA. Operators will use AIS aboard M3MSat independently or in conjunction with RADARSAT-2 by comparing Synthetic Aperture Radar (SAR) images with information captured by M3MSat.
M3MSat is a joint mission of the CSA and DRDC. The CSA is responsible for the LDRS and DDCM instruments, and DRDC is responsible for the AIS. The satellite was built by Ontario-based company COM DEV International (now Honeywell Canada), with support from the University of Toronto Institute for Aerospace Studies and the University of Waterloo.
---
Dawdle Not... SmallSat Symposium Dates Set For 2017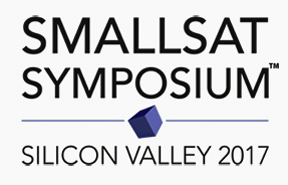 Within the smallsat community, those who hesitate in preparing and planning their next business moves within such a dynamic environment could well be "left behind."
To assist in acquiring the knowledge and expertise to enter and/or continue the acquisition of technology and product to become a successful smallsat actor, Satnews Publishers is delighted to announce that the SmallSat Symposium workshops will be held on February 6 and the conference will be conducted from February 7 to February 8, 2017, at the Computer History Museum, which is located at 1401 North Shoreline Boulevard in Mountain View, California.
A veritable "Who's Who" of subject-matter experts have already committed to presentations during this impact-filled symposium... the accepted speakers to date include...
Chad Anderson, Managing Director Space Angels Network
Jason Andrews, CEO Spaceflight Industries David A. Anhalt, Vice President and General Manager Iridium PRIME
Chris Baugh, President NSR - Northern Sky Research
Peter Beck, CEO & CTO Rocket Lab
Dr. Sami BenAmor, Director of Marketing Thales Alenia Space
John Booher, Partner Hogan Lovells
Dr. Sean Casey, Managing Director Silicon Valley Space Center
Carissa Christensen, Managing Partner The Tauri Group
Craig Clark, Founder Clyde Space Ltd.
Mike Collett, Founder and Managing Partner Promus Ventures
James Crawford, Founder and CEO Orbital Insight
Randy Culver, CEO AMERGINT Technologies
Stuart Daughtridge, Senior VP Advanced Technology Kratos
Dr. Lars Dyrud, CEO OmniEarth
Dr. Shahin Farshchi, Partner Lux Capital
Dr. Jenny Gautier, Director of Commercial Programs The Aerospace Corporation
Dr. Steve Goldberg, CEO & Co-Founder Venrock
David Hartshorn, Secretary General GVF - Global VSAT Forum
Susan J. Irwin, President Irwin Communications, Inc.
John P. Janka, Partner Latham & Watkins LLP
Adam Keith, Managing Director Euroconsult Canada
Debra Facktor Lepore, VP and GM of Strategic Operations Ball Aerospace & Technologies Corp
Tony Lin, Counsel, Washington, DC Hogan Lovells
Dr. Clare Martin, Vice President of Programs Surrey Satellite Technology US
Clayton Mowry, President Arianespace
Carlos Niederstrasser, Business Development & Special Initiatives Orbital ATK
Sunil Nagaraj, Vice President of Marketing and Communications Bessemer Venture Partners
Dara A. Panahy, Partner Milbank, Tweed, Hadley & McCloy
Will Pomerantz, Vice President for Special Projects Virgin Galactic
Dr. Alex Saltman, Senior Vice President GeoOptics Inc.
Randy S. Segal, Partner, Co-Lead Satellite Practice Hogan Lovells
David Strobel, CEO and Program Manager (PM) Space Micro
Chris Stott, Chairman & CEO (PM) ManSat
Tom Stroup, President SIA - Satellite Industry Association
Professor Sir Martin Sweeting, Founder and Executive Chairman Surrey Satellite Technology Ltd.
Stig-Are Thrana, U.S. Sales Director and Head of Kongsberg Silicon Valley Office Kongsberg Satellite Services
Dr. Joe Thurgood, Vice President Corporate Development and Marketing Hera Systems
Dr. Marco Villa, President & COO Tyvak Nano-Satellite Systems
Tony Wilkey, Senior Vice President AvL Technologies
Bruce Yost, Project Manager NASA Ames Research Center
Louis Zacharilla, Director of Development Society of Satellite Professionals International (SSPI)
Here's some particularly good news for interested parties — the first 100 registrants will qualify for a $200 discount on the standard event admission... take advantage of this offer... don't dawdle... and register now at this direct link.