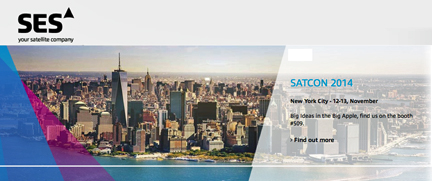 [SatNews] SES (NYSE Euronext Paris and Luxembourg Stock Exchange: SESG) has announced that ANATEL, the Brazilian National Telecommunications Agency, has approved the NSS-806 satellite for use at the 48 degree West orbital position that was recently awarded at auction to SES.
The NSS-806 satellite will provide capacity for Brazil and Latin America and provides C- and Ku-band capacity with 28 transponders available for use in Brazil. Together with SES-6, located at 40.5 degrees West, and SES-10, which is under construction and will in the future occupy the 67 degrees West position, NSS-806 will enable television broadcasters to launch new HD and Ultra-HD channels, for example, or allow telecom operators to improve mobile phone signals in remote areas.
"The use of NSS-806 in the Brazilian and Latin American markets demonstrates SES´s commitment to the region. Although we have up to four years to start providing capacity from that position, we are now ready to begin supplying our customers and partners with capacity, thereby expanding opportunities in the region," said Jurandir Pitsch, director of SES DTH do Brasil. "The demand for capacity in Latin America remains strong and SES is fully committed to meeting that demand. The use of NSS-806 in Brazil will allow our customers to improve their services in Brazil and the other countries covered by the satellite."
To expand the reception of signals, SES has initiated an antenna program for Brazilian cable operators, providing free antennas and know-how to those who are interested.
"We believe this new orbital position will be an excellent alternative for regional video distribution and signifies added value for cable operators, since most satellites serving this market already have a very high fill rate," added Pitsch.

Additionally, SES announced at the Oilcomm 2014 Conference that a new capacity agreement with SageNet/Spacenet has been signed to help energy companies connect their mission-critical operations across the region.
As part of the deal, Tulsa, Oklahoma-based SageNet/Spacenet is using Ku-band capacity on the SES-1 satellite to provide managed enterprise communications solutions for drilling rigs and electric and natural gas utilities. Employees aboard drilling rigs from across the U.S. are relying on this additional bandwidth for high-speed broadband and high-quality voice services to communicate with their colleagues.
"As the U.S. leads the way in global energy production, SageNet/Spacenet is ideally positioned to meet the needs of energy market leaders across North America," said John Matlaga, Vice President of Enterprise and Mobility for SES in North America. "SES has the resources and the satellite coverage across our growing global fleet to help SageNet/Spacenet deliver the fast, secure and reliable connectivity energy companies require, everywhere and anywhere it's needed," said Matlaga.
The agreement is the latest development in a productive and long-standing partnership between SageNet/Spacenet and SES to meet the communications demands for the oil and gas industry. SageNet/Spacenet uses multiple satellites across the SES fleet to serve a broad range of markets—from retail to oil and gas exploration and production, as well as state lottery operations throughout the U.S.
"SES is our largest provider of satellite capacity and expertise, and we continue to elevate our energy focus with SES by our side," said Brad Wise, President of SageNet/Spacenet and a pivotal architect behind the company's Energy Group, a specialized business unit devoted solely to the global energy market. "We are serving many of the largest and most innovative energy companies in the world right here in North America, as evidenced by this agreement aimed at meeting the communications needs of some of the most remote locations on earth."
The SageNet/Spacenet Energy Group provides end-to-end managed network services for energy market exploration, production and distribution operations. Hallmarks of the Energy Group's offerings include ultra, high-speed 6x2 Mbps satellite communications, industry-leading Service Level Agreements, geographically diverse dual hubs with actively managed switchover, and SageNet/Spacenet's Premium Customer Support (PCS) program.
The SES infosite is located at http://www.ses.com/
More information regarding SageNet is available at http://www.sagenet.com/