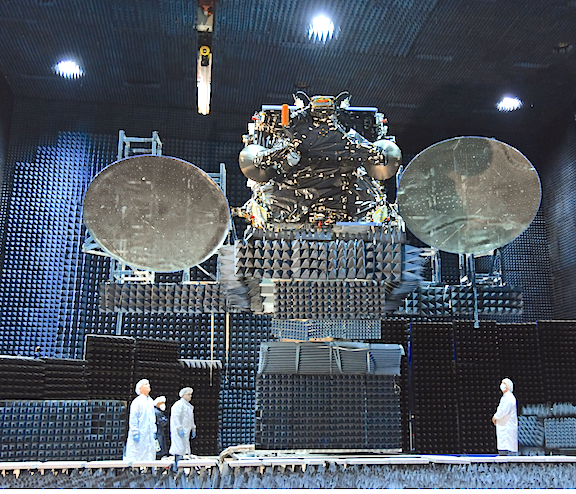 They built the satellite and now it's just arrived at the spaceport getting ready to launch, and this is the third satellite this year that the company has built for JSAT.
The company, Space Systems Loral (SSL), built the JCSAT-15 satellite for SKY Perfect JSAT Corporation (SKY Perfect JSAT). The satellite has just arrived at the European Spaceport in Kourou, French Guiana, where it will be launched aboard an Ariane 5 launch vehicle by Arianespace. The satellite, which is currently being prepared for launch, will be used to provide broadcasting and communications services in Japan, Oceania, and the Indian Ocean Regio
JCSAT-15 is the third SSL-built satellite for SKY Perfect JSAT to launch this year. It is a 10-kW satellite that will replace the N-SAT-110 satellite which is currently located at 110 degrees East longitude. Operating in Ku-band, the satellite will be used to help broadcast the multichannel pay TV service SKY PerfecTV! in Japan, and will also provide data transfer communications, and maritime and aviation applications for the Oceania and Indian Ocean Region.
John Celli, president of SSL stated, "SKY Perfect JSAT and SSL have developed a close working relationship based on our shared commitment to quality, service and making the world a better place. It has been an honor to work with the SKY Perfect JSAT team on JCSAT-15 and we are looking forward to the upcoming launch."
Shinji Takada, Representative Director, President and CEO of SKY Perfect JSAT stated, "JCSAT-15 will allow SKY Perfect JSAT to contribute to the new era of TV broadcasting by offering Ultra HD, or 4K programming. In addition, its expanded coverage will help us to fulfill the growing demand for mobile connections. SSL has already provided us with two satellites this year, which are both performing well on orbit. We have appreciated SSL's strong support in the expansion of our fleet."
JCSAT-15 is based on the highly flexible SSL 1300 platform, which has the capability to support a broad range of applications and technology advances. The satellite will be launched together with a second SSL 1300 satellite built for Embratel Star One. Following the launch there will be 84 SSL-built geostationary satellites on orbit.