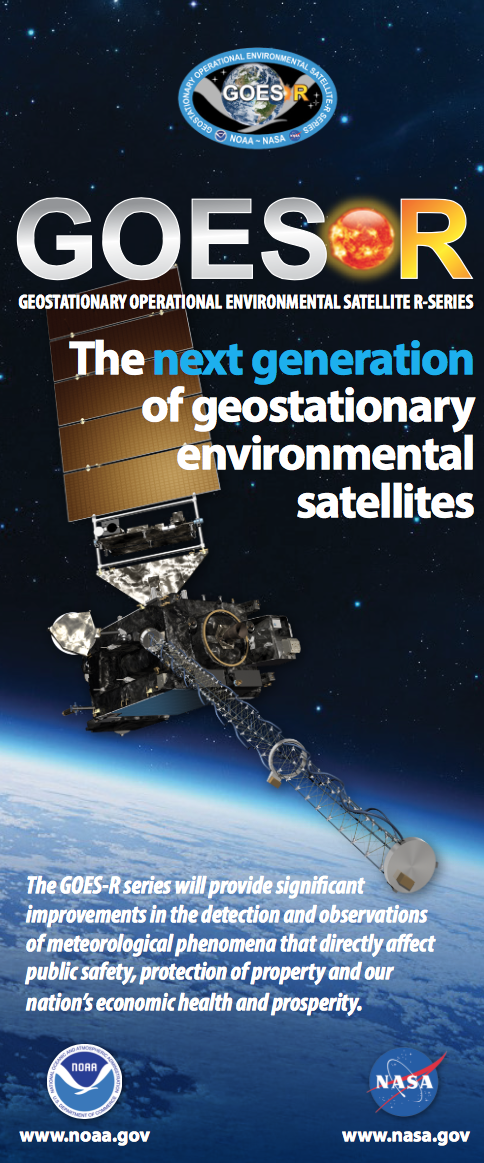 One month from tomorrow will be the launch of of NOAA's GOES-R, the first in a new series of four highly advanced weather satellites that will provide accurate weather forecasts of upcoming major storms that can help save lives and property.
The most recent iteration to be launched is GOES-R that will gather data that will improve NOAA's ability to more accurately predict severe weather, monitor solar activity and improve aircraft flight path planning. GOES-R, is scheduled to launch on Friday, November 4 at 5:40 p.m. EDT from Cape Canaveral, Florida.
The Geostationary Operational Environmental Satellite-R Series (GOES-R) is the nation's next generation of geostationary weather satellites. The GOES-R series will significantly improve the detection and observation of environmental phenomena that directly affect public safety, protection of property and the nation's economic health and prosperity.
The satellites will provide advanced imaging with increased spatial resolution and faster coverage for more accurate forecasts, real-time mapping of lightning activity, and improved monitoring of solar activity.
The GOES-R series is a four-satellite program (GOES-R/S/T/U) that will extend the availability of the operational GOES satellite system through 2036.
Ground support is critical to the GOES-R mission. The GOES-R ground system will operate the satellites, receive data from the spacecraft and generate and distribute real-time GOES-R data products. The ground system will operate from two primary locations: the NOAA Satellite Operations Facility (NSOF) in Suitland, Maryland, and the Wallops Command and Data Acquisition Center (WCDAS) at Wallops, Virginia. A third facility in Fairmont, West Virginia will serve as the Consolidated Backup in case of a systems or communications failure at either or both NSOF and WCDAS.
The GOES-R Series Program is a collaborative effort between NOAA and NASA to develop, deploy and operate the satellites. The GOES-R series is a four-satellite program (GOES-R, S, T and U) that will extend the availability of the operational GOES satellite system through 2036. Once operational, GOES-R will be known as GOES-16.
Remote environmental sensing is only part of the GOES-R mission. The satellites will also provide unique capabilities to relay data directly to users to meet critical needs.
Data Collection System (DCS)
Remote Automated Weather Stations transmitting to GOES
DCS is a satellite relay system used to collect information from Earth- based data collection platforms that transmit in-situ environmental sensor data from more than 20,000 platforms across the hemisphere.
GOES Rebroadcast (GRB)
GRB is the primary space relay of Level 1b products, replacing the GVAR (GOES VARiable) service. GRB will provide full resolution, calibrated, navigated, near real-time direct broadcast data.
High Rate Information Transmission/Emergency Managers Weather Information Network (HRIT/EMWIN) EMWIN is a direct service that provides users with weather forecasts, warnings, graphics and other information directly from the National Weather Service (NWS) in near real-time. HRIT service is a new high data rate (400 Kpbs) version of today's LRIT (Low Rate Information Transmission), broadcasting GOES-R satellite imagery and selected products to remotely- located user terminals.
Search and Rescue Satellite Aided Tracking (SARSAT)
The SARSAT system detects and locates mariners, aviators and other recreational users in distress. GOES-R will continue the legacy function of the SARSAT system on board NOAA's GOES satellites. This system uses a network of satellites to
Emergency Beacons quickly detect and locate signals from emergency beacons onboard aircraft, vessels and from handheld personal locator beacons. The GOES-R SARSAT transponder will operate with a lower uplink power than the current system (32 bBm), enabling GOES-R to detect weaker beacon signals.