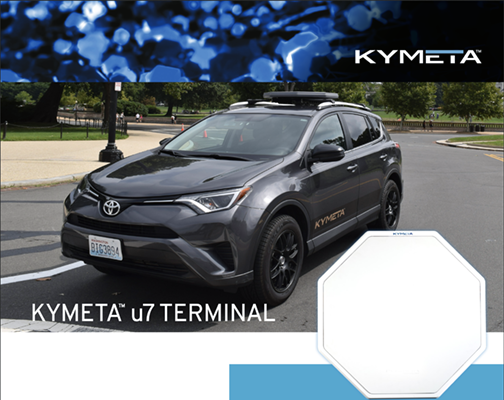 Kymeta will participate in Viasat's government-focused terminal modification kit program, which will enable Kymeta's terminals to interoperate with Viasat's current and next-generation high-capacity satellite communications (SATCOM) networks, including its Hybrid Adaptive Network (HAN) — the HAN is a SATCOM architecture that allows military users to easily roam among commercial and purpose-built defense satellite networks.
Enabling interoperability between Kymeta's terminals and Viasat's SATCOM networks provides assurance to U.S. Department of Defense (DoD) and international coalition forces that their current inventory of SATCOM terminals will be able to access Viasat's next-generation, high-capacity satellite networks by simple updates to existing terminals without the need to purchase new equipment.
Hybrid networks can maximize subscriber capabilities and resilience by providing simultaneous access to multiple networks. These networks may span multiple orbital regimes, operate over multiple frequency bands, provide independent terrestrial infrastructure, and feature different network management and cyber defense capabilities, providing inherent diversity and removing single points of failure and/or attack.
Due to load balancing, different service level agreements, network congestion, weather, and other attributes, the user population of hybrid networks will be spread across multiple transport networks. This will make it difficult for an adversary to target their communications capabilities for collection, exploitation, or denial.
Ken Peterman, President, Government Systems, Viasat, said the company's terminal modification kit will help U.S. DoD and international military forces quickly implement an end-to-end hybrid architecture to support their diverse mission sets while using interoperable terminals on the best available SATCOM networks.
Walter Berger, President, COO and CFO, Kymeta Corporation, said this is the culmination of a dedicated group within Kymeta and Viasat working together to qualify the Kymeta™ u7 terminal to be the first selected into the HAN program. This is an incredible accomplishment.