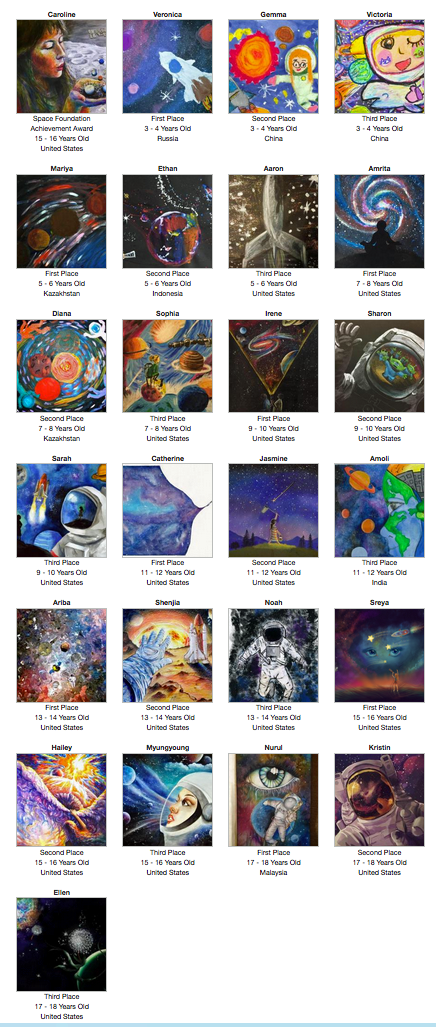 Students ranging in age from three through 18 years submitted 3,099 entries from 50 countries and 31 US states for the Space Foundation's seventh annual Student Art Contest.
From this gathering of creative works, 25 winners from seven countries were selected, and one entry was selected for the top Space Foundation Achievement Award. The winner is Caroline, age 15, who hails from the United States. The 2017 contest theme is "Space Through My Eyes…" and each year the contest is free to enter for public, private and home schooled children from around the world.

"The Space Foundation's International Student Art Contest continues to touch the lives of thousands of young people across the globe. They are tomorrow's explorers, and the outpouring of their creativity is truly inspiring. It is satisfying to know we are helping keep interest in space exploration alive and well," said Kevin Cook, Space Foundation Vice President - Marketing & Communications.

The art contest is co-sponsored by Eagle Eyes®, a long-time Space Foundation Space Certification partner and 2010 inductee into the Space Technology Hall of Fame. Eagle Eyes will award the winning artists with high performance sunglasses that incorporate eye-protecting technology developed for use by astronauts in space. The winners will also receive personalized autographed photos signed by former NASA astronauts Nicole Stott and Gary E. Payton, plus a certificate, ribbon, Fisher Space Pen® and an art kit.

The winning entries will be shown at the Space Foundation's 33rd Space Symposium, to be held April 3-6, 2017, at The Broadmoor in Colorado Springs, Colorado, USA. After the Symposium, the winning art will be displayed at Space Foundation World Headquarters and Discovery Center in Colorado Springs.
To view the winning artwork, head over to art.spacefoundation.org/winners-gallery/2017.

In August of 2017, the Space Foundation will make an announcement regarding the 2018 contest.
In listing this year's winners, only the children's first names are offered to protect each individual's privacy.