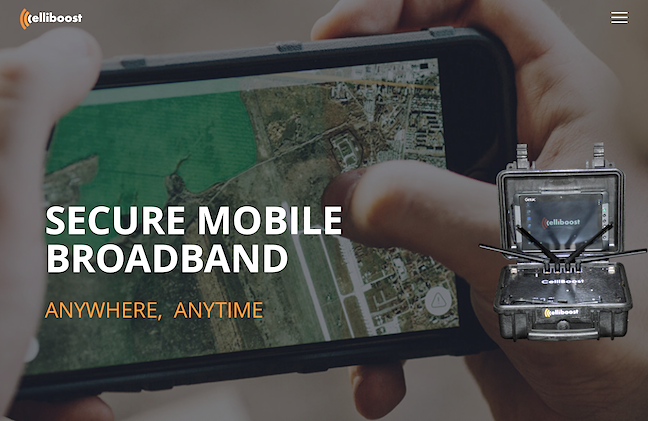 Celliboost, an Israeli start-up company, has developed and begun marketing a standalone mobile system that uses ordinary mobile infrastructure for fast transmission of large-volume landline-quality high-resolution data, audio, and video communications. They are using the secure broadband communication in rugged terrain in rural and open areas. This system is a good fit for the military, security and homeland security organizations, law enforcement, and emergency services, as well as telecommunications companies, such as radio and television stations. The algorithm-supported system can link to any communications interface, including satellite and ADSL, across all operating characteristics of the broadband channel.
Celliboost announced their first customers are in Mexico and Chile. The company also has plans to recruit business partners and distributors to expand its foothold in global markets.
The new Israeli technology offers broadband access for both Internet and control centers of end-customers. Celliboost's service of broadband mobile communications in all types of terrain and all kinds of mobile coverage—from 3G, through GSM, to LTE. The platform allows the simultaneous use of up to four mobile channels, independent of the mobile operator, and supports two operating methods—bonding and load balancing. During development, Celliboost's experts linked four different mobile SIM cards to create a single strong communications system with continuous bonded bandwidth. The platform can combine 3G, 4G, and LTE technologies with interfaces, such as VSAT, WAN, and Wi-Fi, and other mobile links to provide fast and stable communications without delays.
Celliboost was founded in late 2015 by Alon Dayan, who serves as CEO of the company and as an executive at Celliboost's parent company, L1-Systems. Dayan, a communications engineer by training, previously served as a marketing manager at Elbit Systems Land and C4I in Mexico and Central America. The development of Celliboost's system was led by Ronen Angel, who serves as CTO of the company. VP Marketing Haim Baruch is another executive at the company.
Celliboost founder and CEO Alon Dayan stated, "The communications world is moving forward, providing faster communications speeds, but demand from consumers is always higher than what the technology offers. Consumers want to send more data files faster and get a continuous communications experience when they send HD-quality video, messages, status updates, and location and other data. Celliboost's vision is to use innovative technology to close the gap between supply and demand in communications. We will shortly announce other measures to realize this vision."
The Celliboost system offers a large number of functions, including;
multiple load balancing
HD-quality video streaming on 3G and 4G networks
automated switching to the best available channel
connection to 3G, LTE, Wi-Fi, DSL, cable, or satellite communications
bandwidth allocation control and reporting
MIMO support
built-in WLAN control
built-in GPS
rugged carrying case with external antenna hook-up option
remote or from the field system management