[SatNews] The EUMETSAT optional Jason-CS program is EUMETSAT's contribution to the development and implementation of the collaborative high precision ocean altimetry Jason-CS/Sentinel-6 mission, involving also ESA, the European Union through its Copernicus program, and the United States, through NASA and NOAA.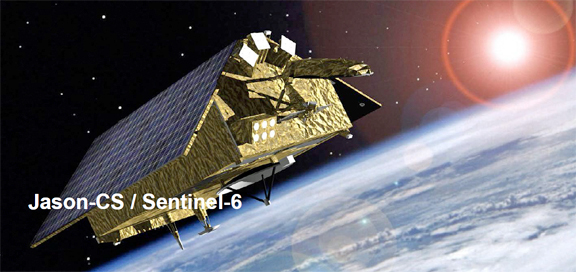 The approval of this EUMETSAT program is excellent news two months ahead of the COP 21 climate conference hosted by France in Paris from November 30 to December 11, 2015. Indeed, the Jason-CS/Sentinel-6 collaborative mission will extend—at least until 2030—the unique record of mean sea level measurements accumulated since 1992 by the Topex-Poseidon, Jason, Jason-2 and Jason-3 altimeter missions, thus providing vital information data to the Small Island Developing States and other countries exposed to sea level rise.
In addition, the mission will, together with the CopernicusSentinel-3 marine mission also exploited by EUMETSAT, support the development of operational oceanography in Europe.
After approving Meteosat Third Generation in 2011 and EPS-Second Generation in June, the EUMETSAT Member States have now approved the three programs required to ensure continuity and enhancement of critical observations from three different orbits, from 2020 and into the future.