The UPSat team of engineers has just delivered for launch integration the first completely open source software and hardware satellite.
This is a major step toward UPSat's launch—the successful delivery was to Innovative Solutions In Space (ISISpace) and occurred on August 18th in Delft, Netherlands. UPSat is the first complete delivery to ISISpace as part of the QB50 project.
Engineers from the University of Patras (Department of Mechanical Engineering and Aeronautics & Department of Electrical Engineering and Computer Engineering) and Libre Space Foundation, the makers of UPSat, in cooperation with Von Karman Institute and ISISpace engineers, have successfully concluded all checkout tests and delivery procedures, which now enable UPSat's integration into the NanoRacks launch system.
UPSat will be delivered to Orbital ATK and then launched to the International Space Station via a Cygnus automated cargo spacecraft, with that launch scheduled for December 30th. After successful docking to ISS, UPSat will be launched by the NanoRacks deployment pod aboard ISS.
This delivery marks a major milestone toward the realization of University of Patras and Libre Space Foundation vision for the first Greek designed and manufactured satellite within an open source ecosystem in space for space.

UPSat (https://upsat.gr) is the first open source hardware and software satellite, designed and integrated by Libre Space Foundation and the University of Patras to participate in the international QB50 Research mission.
The QB50 mission (https://www.qb50.eu) is an international research mission of 50 satellites aiming to collect data on thermosphere, the highest part of Earth's atmosphere. The project is coordinated by the Von Karman Institute of fluid dynamics.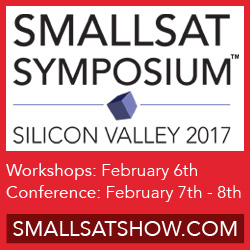 University of Patras University of Patras (http://www.upatras.gr) is a public university in Patras, Greece. The Department of Mechanical Engineering and Aeronautics together with the Department of Electrical Engineering and Computer Engineering started the UPSat project since 2010.
Libre Space Foundation Libre Space Foundation—LSF (https://librespacefoundation.org) is a non-profit organization aiming to promote, advance and develop open source technologies for space. LSF designed, manufactured and delivered UPSat subsystems (hardware and software) as open source projects.