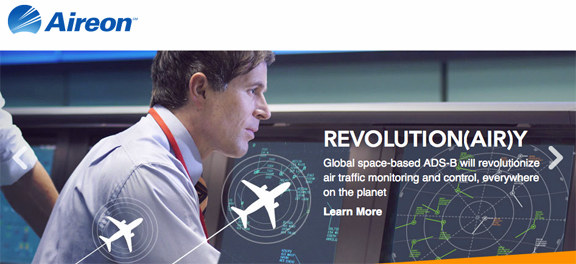 [SatNews] Aireon LLC, the developer of the world's first space-based global air traffic surveillance system, has signed a Memorandum of Understanding (MOU) with the Blue Med Functional Airspace Block (FAB), an Air Navigation Service Providers (ANSP) cooperative of Cyprus, Greece, Italy and Malta, whose mission is to streamline the flow of airspace over the Mediterranean area in compliance with the Single European Sky 2 (SESII) regulatory framework.
This agreement will allow Blue Med FAB ANSPs to evaluate the implementation of space-based Automatic Dependent Surveillance – Broadcast (ADS-B) capabilities and determine how those capabilities could improve air traffic surveillance over the Mediterranean airspace.

In partnership with leading ANSPs and investors from around the world, NAV CANADA, ENAV, the Irish Aviation Authority (IAA) and Naviair, as well as Iridium Communications Inc., Aireon plans to provide the first opportunity for global air traffic surveillance as early as 2017. The AireonSM space-based ADS-B service will complement ground-based air traffic surveillance systems currently in use, by seamlessly relaying position and status information of aircraft flying over oceans, poles and remote regions to air traffic controllers on the ground. This new capability is a quantum leap for remote surveillance, extending air traffic surveillance to the entire planet and unlocking operational efficiencies, reducing fuel costs and enhancing safety in remote and oceanic airspace.
"Aireon has an incredible network of partners in the European region. With a global constellation, they are furthering their network of collaboration within Europe and beyond," said Benedetto Marasa, Deputy Director General, ENAC. "Their space-based ADS-B technology has the potential to revolutionize the way we perform surveillance and bring us to the forefront of safety and efficiency."
According to Don Thoma, President and CEO, Aireon, "Blue Med is already establishing an efficient platform for the harmonization of surveillance throughout the Mediterranean Area—by introducing a satellite-based surveillance system, Blue Med will reinforce their efforts to increase flight safety and flight efficiency, while driving the international harmonization of ADS-B standards with neighboring ANSPs in the region."