[Satnews] NASA will host its second Cube Quest Challenge Summit November 18-19 for teams participating in the $5.5 million small satellite technology competition.
The virtual conference will provide an interactive platform for teams to discuss technologies and mission designs for their challenge entries with industry representatives and NASA officials. During the two-day summit, teams will hear about deep space CubeSats from subject matter experts and have opportunities to talk with NASA leadership about how advanced CubeSats might help NASA achieve future mission goals. The summit also offers new teams a chance to learn more about the challenge and for existing teams to recruit new talent.
The summit will be live-streamed starting at 11:00 a.m. EST on Wednesday, November 18. Registration is required to view the live stream and is available on a first-come, first-served basis. A recording of the broadcast will be available online for three months following the event.
The next Cube Quest Challenge event is Ground Tournament 2, scheduled for February 2016. Following completion of the ground tournaments, Cube Quest will continue with the deep space and lunar derbies. The Deep Space Derby challenges teams to use deep space communications on small spacecraft, while the Lunar Derby focuses on propulsion for small spacecraft and near-Earth communications.

The goal of the Cube Quest Challenge, NASA's first-ever in-space challenge, is to build flight-qualified small satellites capable of advanced communication and propulsion near and beyond the moon. Cube Quest is part of NASA's Centennial Challenges Program, which accelerates technology development by engaging non-traditional sources in competition.
---
SmallSat Symposium Set For February of 2016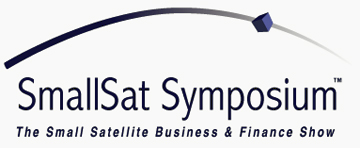 For a thorough immersion in the smallsat market segment, consider attending the upcoming, two-day and extremely important SmallSat Symposium. This highly informative symposium will be conducted on Tuesday, February 23, and Wednesday, February 24, 2016. The event will occur at the Hogan Lovells Conference Center in Silicon Valley, California, and is organized and sponsored by Satnews Publishers.
For further details and to register, please visit http://www.smallsatshow.com/?page_id=18