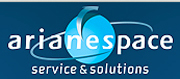 Activities continue unabated for Arianespace as preparations are now underway for the company's next flight using their lightweight Vega, which is set for December 5—the launcher is taking shape at the Spaceport and the mission's GÖKTÜRK-1A payload for Turkey has been successfully delivered to French Guiana.
The launch vehicle build-up process began with Vega's P80 first stage rollout from the zone where solid propellant stages are prepared at the Spaceport. Riding atop a heavy-duty transporter, the P80 was transferred to the SLV launch site, marking the first step in Vega's assembly process. Vega's P80 is one of the largest, most powerful one-piece solid-fuel stages ever built. Sized at just under 11 meters tall, this propulsion system has a 3 meter diameter and weighs in at approximately 95 tons.
With the P80 installed and checked out, this first stage element has been joined on the launch pad by Vega's Zefiro 23 second stage. Transferred on a flatbed truck, the 26 ton solid propellant Zefiro 23 stage is 7.5 meters tall and has a diameter of approximately 1.9 meters.
The four-stage Vega serves as the lightweight vehicle in Arianespace's launcher family operated from French Guiana. Vega is a European Space Agency (ESA) program, jointly funded by Italy, France, Spain, Belgium, the Netherlands, Switzerland and Sweden. Avio is the launcher design authority and industrial prime contractor, operating through its Italian subsidiary ELV (in which the Italian space agency ASI has a 30 percent stake). Since the start of operations at the Spaceport in 2012, all of Vega's previous seven flights have been successful, demonstrating the launcher's capabilities in a variety of mission scenarios.
Vega's payload on the December mission—designated VV08 in Arianespace's launcher family numbering system—is the Göktürk-1A observation satellite, managed within the scope of a turnkey contract with Telespazio as prime contractor for the Undersecretariat for Defence Industries of Turkey. The spacecraft was delivered to French Guiana, arriving aboard a chartered Antonov An-124 cargo jetliner at Félix Eboué Airport near the French Guiana capital city of Cayenne. The protective container with Göktürk-1A was unloaded from the four-engine aircraft and readied for its transfer by road to the Spaceport.
Equipped with a high resolution optical instrument, Göktürk-1A has an unfueled mass of approximately 1,070 kg and will operate from Sun-synchronous orbit. Thales Alenia Space is responsible for the satellite, joined by Turkish partners that include Tai A.S., Aselsan A.S., Tubitak, Uekae, Roketsan A.S. and TR Tecnoloji.