For those with an iPhone or an iPad, this upcoming launch of the Hispasat 36W-1 satellite may be watched entirely on your device... and the good news is that the Arianespace HD app is free, so grab the app and carry the launch with you anywhere you may happen to be located.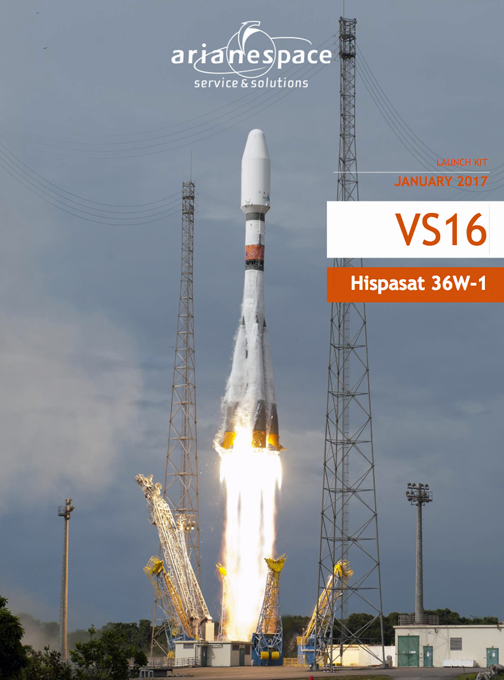 This is Arianespace' year-opening launch of 2017 and the Hispasat 36W-1 geostationary satellite will be driven to orbit for the Spanish operator Hispasat using a Soyuz launch vehicle. Designated Flight VS16 in Arianespace's launcher family numbering system, this mission will be the first-ever mission to geostationary transfer orbit performed by Soyuz from the Guiana Space Center in French Guiana.
Hispasat 36W-1 is the first satellite to be built using Europe's new "SmallGEO" platform developed by OHB System AG (Germany) under ESA's ARTES (Advanced Research in Telecommunications Systems) program. The launch will be from the Soyuz Launch Complex (ELS) in Sinnamary, French Guiana. The launcher will be carrying a total payload of 3,343 kg.
The Launch Readiness Review (LRR) will occur on Thursday, January 26, 2017 in Kourou, to authorize the start of operations for the final countdown.
Hispasat is the Spanish satellite communications operator, a leader in the distribution of content in Spanish and Portuguese. With more than 25 years' experience, the Hispasat Group maintains an important presence on the Iberian Peninsula and in Latin America, where it is now the fourth-largest satellite operator.
From its orbital position at 36 degrees West, Hispasat 36W-1 will allow Hispasat to provide a wide range of telecommunications services in Spain, Portugal, the Canary Islands and South America. The satellite was built by OHB System AG in Bremen, Germany, using a SmallGEO platform, which was developed by OHB System AG under ESA's ARTES (Advanced Research in Telecommunications Systems) program—the SmallGEO platform line offers satellite operators an entirely European solution in the smaller telecom satellite market.
To watch a live, high-speed online transmission of the launch (including commentary from the launch site in French and English), go to arianespace.com on January 27, 2017, starting 20 minutes before liftoff.