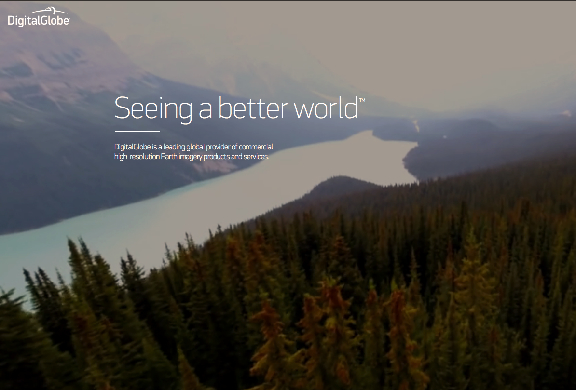 [Satnews] DigitalGlobe, Inc. (NYSE: DGI) has formed a joint venture with TAQNIA, a firm dedicated to accelerating technology development for the Kingdom of Saudi Arabia, in partnership with KACST to develop a constellation of highly capable small imaging satellites to support the needs of customers around the world.
DigitalGlobe and TAQNIA and KACST signed an agreement on February 21, 2016, to form a joint venture that will be responsible for developing six or more sub-meter resolution imaging satellites. The smallsats are expected to be capable of collecting imagery with anticipated 80 cm resolution and will leverage DigitalGlobe's industry-leading ground infrastructure.

TAQNIA and KACST will benefit from DigitalGlobe's imagery production platform and expertise and massive catalog of high-resolution, high-accuracy imagery, which will improve the native accuracy of the small satellite imagery. TAQNIA and KACST will also benefit from DigitalGlobe's global distribution capability and existing customer relationships with the world's largest buyers of commercial satellite imagery and geospatial information.
KACST will construct, integrate, and launch the satellites, and it will own 50 percent of the satellites' imaging capacity inside of KACST's communication cone, which includes Saudi Arabia and the surrounding region. DigitalGlobe will have rights to the other 50 percent of the capacity inside this region and 100 percent of the satellites' capacity outside of the region. TAQNIA will be responsible for marketing and monetizing 50 percent of the capacity within the KACST communication cone. DigitalGlobe will be responsible for marketing and monetizing the remaining 50 percent of capacity within the KACST communication cone and 100% of the remaining worldwide capacity.
Additionally, DigitalGlobe, TAQNIA, and KACST will share the commercially generated revenue. The small satellites are expected to be launched in late 2018 or early 2019 and will be highly complementary to the next-generation satellite architecture DigitalGlobe is developing to replenish WorldView-1 and WorldView-2. Finally, this partnership offers DigitalGlobe customers a complementary source of data to address new use cases, while expanding the image catalog of DigitalGlobe's Geospatial Big Data platform.
King Abdulaziz City for Science and Technology (KACST), an independent scientific organization led by H.H. Dr. Turki bin Saud bin Mohammad Al Saud and one of DigitalGlobe's direct access customers, will lead the development of the small satellites and benefit from the assured, supplemental capacity and intra-day revisit rate they will provide.
"The satellites developed under this partnership will allow us to uniquely unlock new value in emerging use cases by combining high-resolution, high-accuracy imagery and high-revisit imagery," said Jeffrey R. Tarr, DigitalGlobe President and Chief Executive Officer. "This innovative, capital-efficient business model leverages DigitalGlobe's extensive investment in an industry-leading ground infrastructure and our customer relationships to the mutual benefit of both parties."
"Partnering with the premier commercial satellite imaging firm will help to propel the Kingdom of Saudi Arabia to become a leader in remote sensing and satellite technology," said H.H. Dr. Turki bin Saud, Chairman of the Board of Directors for TAQNIA and President of KACST.
"We believe this partnership has tremendous value for TAQNIA, DigitalGlobe, and the many global customers that will be able to leverage these unique capabilities," said Mr. Abdullah Alosaimi, Chief Executive Officer of TAQNIA Space Company.