International Launch Services (ILS) and SIRIUS XM Radio (NASDAQ:SIRI) now have a contract for the launch of the XM-5 satellite on an ILS Proton.
The satellite is scheduled for launch in 2010. This is the tenth firm award announced by
ILS
this year.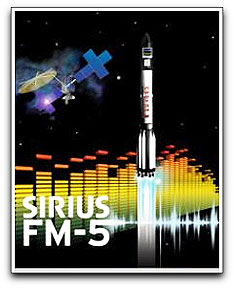 This will be the 5th
ILS Proton
launch for the
SIRIUS XM
Radio fleet; ILS launched the entire SIRIUS satellite constellation, with the most recent being the
SIRIUS FM-5
satellite last June. The Proton vehicle is Russia's premier heavy-lift launcher and is built by
Khrunichev Research and Production Space Center
, one of the pillars of the Russian space industry and the majority owner of ILS. Proton has launched more than 345 times to date since its maiden flight in 1965.
The 6,000 kg XM-5 satellite will be located at
85 degrees West
and will enhance the existing XM satellite fleet, ensuring XM subscribers across North America continue receiving digital-music, entertainment, and data services. Built on the flight proven
Space Systems/Loral 1300
platform, the XM-5 satellite will provide high-power,
digital audio radio
service (
DARS
) and will have an end-of-life power capability of nearly 20 kilowatts, making it one of the world's most powerful communications satellites.