[SatNews] The official statements from ULA and NASA.
A United Launch Alliance (ULA) Atlas V rocket successfully launched NASA's Tracking and Data Relay Satellite (TDRS-K) payload at 8:48 p.m. EST today from Space Launch Complex-41. This was the first of 13 ULA launches scheduled for 2013, the 35th Atlas V mission, and the 67th ULA launch.
"ULA and our mission partners are honored to work with the outstanding NASA team and we are proud of the vitally important data relay capabilities that were safely delivered today," said Jim Sponnick, ULA vice president, Mission Operations.
This mission was launched aboard an Atlas V 401 configuration vehicle, which includes a 4-meter diameter payload fairing. The Atlas booster for this mission was powered by the RD AMROSS RD-180 engine and the Centaur upper stage was powered by a single Pratt & Whitney Rocketdyne (PWR) RL10A-4 engine.
NASA established the TDRS project in 1973 to provide around-the-clock and around-the-Earth communications for the network that routes voice calls, telemetry streams and television signals from the International Space Station, as well as science information from the Hubble Space Telescope and other orbiting spacecraft.
"With this team's innovative and ever-present focus on delivering mission success and best value through Perfect Product Delivery, final work at the Cape to prepare the Atlas V rocket that launched today was completed in record time – 27 days from when the vehicle was first erected to launch," said Sponnick. "The ability for ULA to reduce its processing time both during manufacturing and at the launch sites, offers our customers added manifest flexibility as well as additional launch opportunities to ensure their payloads are delivered reliably and on-time." ULA's next launch is the Atlas V LDCM mission for NASA scheduled for Feb. 11, 2013 from Space Launch Complex-3 at Vandenberg Air Force Base, California.
ULA program management, engineering, test, and mission support functions are headquartered in Denver, Colo.  Manufacturing, assembly and integration operations are located at Decatur, Ala., and Harlingen, Texas. Launch operations are located at Cape Canaveral AFS, Fla., and Vandenberg AFB, Calif.
The first of NASA's three next-generation Tracking and Data Relay Satellites (TDRS), known as TDRS-K, launched at 8:48 p.m. EST Wednesday from Cape Canaveral Air Force Station in Florida.
"TDRS-K bolsters our network of satellites that provides essential communications to support space exploration," said Badri Younes, deputy associate administrator for Space Communications and Navigation at NASA Headquarters in Washington. "It will improve the overall health and longevity of our system."
The TDRS system provides tracking, telemetry, command and high-bandwidth data return services for numerous science and human exploration missions orbiting Earth. These include the International Space Station and NASA's Hubble Space Telescope.
"With this launch, NASA has begun the replenishment of our aging space network," said Jeffrey Gramling, TDRS project manager. "This addition to our current fleet of seven will provide even greater capabilities to a network that has become key to enabling many of NASA's scientific discoveries."
TDRS-K was lifted into orbit aboard a United Launch Alliance Atlas V rocket from Space Launch Complex-41. After a three-month test phase, NASA will accept the spacecraft for additional evaluation before putting the satellite into service.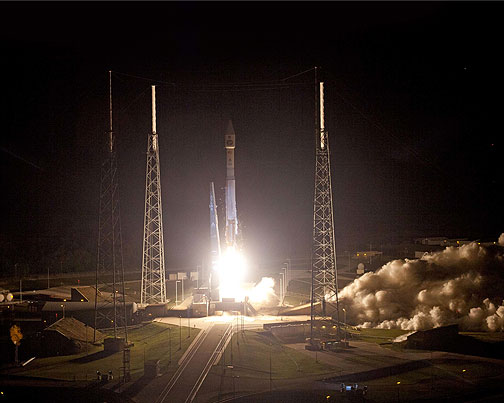 The TDRS-K spacecraft includes several modifications from older satellites in the TDRS system, including redesigned telecommunications payload electronics and a high-performance solar panel designed for more spacecraft power to meet growing S-band requirements. Another significant design change, the return to ground-based processing of data, will allow the system to service more customers with evolving communication requirements.
The next TDRS spacecraft, TDRS-L, is scheduled for launch in 2014. TDRS-M's manufacturing process will be completed in 2015.
NASA's Space Communications and Navigation Program, part of the Human Exploration and Operations Mission Directorate at the agency's Headquarters in Washington, is responsible for the space network. The TDRS Project Office at NASA's Goddard Space Flight Center in Greenbelt, Md., manages the TDRS development program. Launch services were provided by United Launch Alliance. NASA's Launch Services Program at the Kennedy Space Center was responsible for acquisition of launch services.