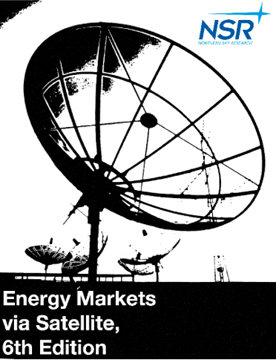 With global Oil & Gas markets continuing to show signs of instability, can the satellite communications industry continue to cite Energy markets as a 'key vertical?'
Even in this 'downturn' there are opportunities, correct? Regardless of oil pricing trends, there are clear needs for communications, and data-driven innovation across the Energy market value-chain—from 'big data' in the upstream markets to M2M/IoT applications in the midstream and distribution segments. If nothing else is clear, it is that 'business as usual' is no longer valid and the market is firmly 'innovate or else…'
Highlighting some of the key trends from NSR's Energy Markets via Satellite, 6th Edition, this NSR webinar will explore key issues facing the Energy market:
Is 'cheap capacity' the answer for Energy players?
Where, when, and how much HTS capacity and services will the Energy Markets require through 2025? Is there still a place for FSS capacity in this 'point-to-point' market?
How much weight should the industry give to crude-oil pricing? Is a 'turn around' required for growth of satellite communications services?
Join NSR for this free Webinar that will discuss the challenges and opportunities facing the satellite communications industry in the Energy markets. The Webinar will occur on May 18th at 10:00 a.m., EDT — attend this free event by visiting this direct registration link...