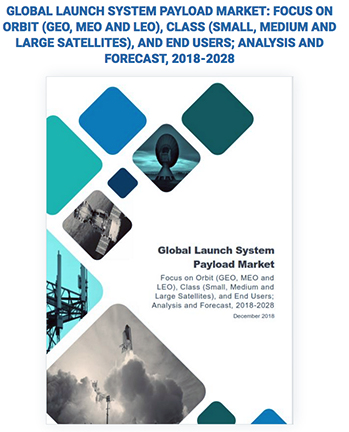 The "Global Launch System Payload Market: Focus on Orbit (GEO, MEO and LEO), Class (Small, Medium and Large Satellites), and End Users; Analysis and Forecast, 2018-2028" report has been added to ResearchAndMarkets.com's offering.
The satellite launch industry is witnessing tremendous growth with many new players entering the market. According to the Federal Aviation Administration (FAA), a US-based regulatory authority for civil aviation, the global launch services were estimated to be around $5.5 billion in 2016 and is expected to grow with the booming space economy.
Satellites play a crucial role in enabling services such as communication, navigation, and environmental monitoring for the commercial, military, and government end users. There is an extensive demand for satellites today as there's an increasing need for faster, reliable, and efficient real-time tracking and monitoring system. Consequently, launch vehicles for satellites are an essential aspect of the global space industry, as they carry and place satellites into their assigned positions on the Earth's orbit.
Global launch system payload market has witnessed a high growth rate owing to the growing demand for satellite launches, specifically satellite constellations (that comprise several small satellites). The global launch system payload market recorded 390 satellite launches in 2017, with more number of small satellite launches in the forecast period.
North America, followed by Asia-Pacific and Europe is expected to dominate the market during the forecast period (2018-2028). The U. S. is the leading country in the global launch system payload market and is expected to maintain its dominance during the forecast period. Asia-Pacific is expected to grow at the highest CAGR, with China dominating the market in this region. India is likely to grow at a much faster rate as compared to the other countries due to the continuous efforts by both the government and private players in India to advance the space sector.
Market Dynamics
Market Drivers
Growing Demand for Satellites among Different Applications
Increasing Investments in the Satellite Launch Industry
Increasing Demand for Commercial Small Satellite Constellation
Market Restraints
Issues with Orbital Debris
Stringent Regulatory Framework
Market Opportunities
Increasing Opportunities for the Private Players in Satellite Launch Industry
Low-Cost Access to Space
Companies Mentioned
Arianespace
Blue Origin
China Aerospace Science and Technology Corporation
Eurockot Launch Services GmbH
International Launch Services (ILS)
Interorbital Systems
ISC Kosmotras
Lockheed Martin Corporation
Mitsubishi Heavy Industries Ltd.
Northrop Grumman Corporation
Rocket Lab USA, Inc.
Space Exploration Technologies Corp. (SpaceX)
Spacefleet Ltd.
United Launch Alliance (ULA)
Vector Launch, Inc.
Virgin Orbit
For more information about this report, please visit this direct infolink...