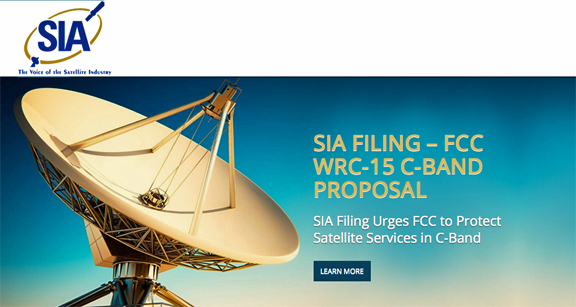 [SatNews] The Satellite Industry Association (SIA) has filed comments with the Federal Communications Commission (FCC) in response to a Further Notice of Proposed Rulemaking (FNPRM) concerning the FCC's ongoing comprehensive review of the regulations for satellite services and satellite process reforms.
In the comments, SIA stated its strong and continuing support for efforts by the FCC to streamline the regulations governing satellite communications.
The FNPRM, issued in September of 2014, considers various proposals to revise Part 25 of the Commission's rules, which governs the licensing and operating regulations for satellites and related ground equipment. The proposals in the FNPRM will amend, clarify or eliminate numerous unnecessary or outmoded rule provisions, reducing the regulatory burden on the satellite industry and enhancing the industry's ability to provide innovative satellite services to U.S. consumers more quickly and efficiently.
"SIA applauds and appreciates the commitment of the FCC to streamlining and updating its Part 25 rules and associated procedures," said Tom Stroup, President of SIA. "Our membership and the satellite industry at large have a strong interest in this process, and will continue to engage with the Commission to ensure that the updated rules enhance the public interest by enabling the satellite industry to deliver innovative services to the public efficiently and effectively. As demonstrated by the recent host of announcements regarding new satellite constellations for broadband, remote sensing and weather applications, there is a renewed appreciation and interest in the reliability and ubiquity that only space-based infrastructure can deliver. We look forward to continuing to work with the FCC on this important rule making."
For a complete copy of the SIA filing, please select this infopage link.