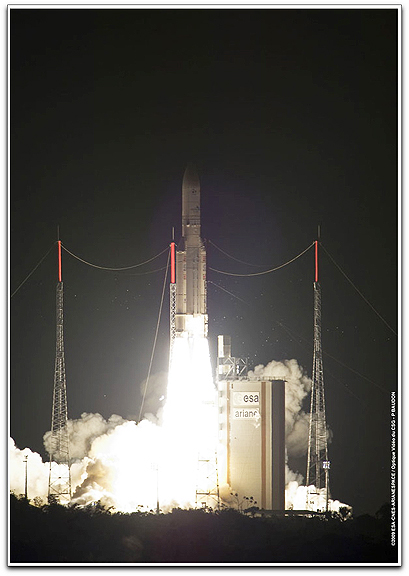 Arianespace achieved success with their Ariane 5 launch on October 1st — this was the vehicle's 33rd consecutive success and its fifth flight in 2009 — bringing total payloads orbited by the company this year to seven telecommunications satellites, two deep space telescopes and two piggyback spacecraft.
This latest mission carried the
Amazonas 2
civilian relay platform for Spain's
HISPASAT
and the German
COMSATBw-1
secure military communications satellite as a dual-passenger launch.
Today's flight orbited a combined payload mass of more than 7,900 kg. for the Amazonas 2 and COMSATBw-1 passengers, bringing Ariane 5's total lift performance in 2009 to approximately 34,000 kg. In another on-time departure for Arianespace, the vehicle lifted off at 6:59 p.m. (local time in French Guiana), which was the opening of a 1 hour, 11 minute launch window. Ariane 5 climbed through clear skies over the
Spaceport
, enabling a view of its initial trajectory — including the burn-out and separation of the two solid rocket boosters, which were jettisoned at an altitude of 67 km.
Amazonas 2 rode as the upper passenger in the launch vehicle's payload "stack," and was deployed 27 minutes into the mission by Ariane 5.  This satellite will be operated by Spanish telecommunications operator HISPASAT, for which Arianespace has provided repeat launch services since its orbiting of the Hispasat 1A telecom relay platform in 1992. The Amazonas 2 spacecraft was produced by
EADS Astrium
, and is the 66th satellite from this manufacturer orbited by
Arianespace
.  With a mass at liftoff of approximately 5,500 kg., Amazonas 2 will provide a wide range of telecommunications services over its coverage area extending from Alaska to Tierra del Fuego. It is to be operated from an orbital slot of
61 degrees West
for relay services with 54 Ku- and 10 C-band transponders.  Based on EADS Astrium's
Eurostar E3000
spacecraft bus, the satellite has a design lifetime of 15 years, with an end-of-life power of 15.3 kW.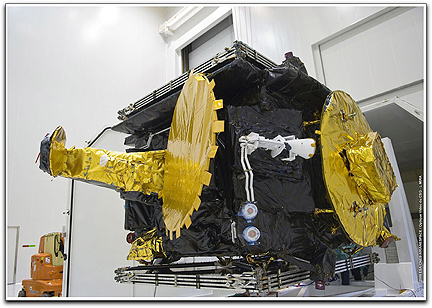 COMSATBw-1 was Ariane 5's lower payload on the launch and it was released at just over 33 minutes into the flight — becoming the 32nd military spacecraft lofted by Arianespace.  The satellite weighed approximately 2,500 kg., and will be positioned at an orbital location of
63 degrees East
. It will serve as a key element in the German
Bundeswehr
's (German Armed Forces) concept for network-centric operations, providing the backbone of a strategic command infrastructure and interface for the Bundeswehr's tactical arms, handling secure information — including voice, fax, data, video and multimedia applications - for use by units on deployed missions. COMSATBw-1 is equipped with 4 SHF- and 5 UHF-band transponders, with a coverage area extending from America to eastern Asia.
Astrium
is prime contractor for the German SatComBw military telecommunications system's space segment, which will comprise two COMSATBw satellites to be launched by Arianespace. Integration of these relay spacecraft is the responsibility of
Thales Alenia Space
, with the satellites based on the
Spacebus
platform. Their payloads are provided by Astrium subsidiary
TESAT
.
Ariane 5's launch today marked the 191st mission of an Ariane vehicle since the launcher family began operations in 1979. Preparations for Arianespace's next launch are well advanced, with the basic build-up of this flight's Ariane 5 completed in the
Spaceport
's
Launcher Integration Building
.  It is ready for a transfer to the
Final Assembly Building
, where the heavy-lift vehicle will be equipped with a dual payload of the
NSS-12
and
THOR 6
commercial telecommunications satellites. This mission is planned for the end of October.